I will start out by apologizing. Most of the time I talk about a coffee joint, people want to know how great its espresso is or how great the drip is. Despite my ravenous thirst for brewed things (i.e., sweet tea and beer), my palate is inept at distinguishing coffee. That might be because I generally cover most of the authentic coffee flavor with copious amounts of sugar and cream — virtually rendering it a mocha or milkshake by definition. So, you are blessed by hearing about the amazing baked goods on their counters and, of course, how their mochas compare to each other.
Lux is most certainly the place to be. If you have not gone there yet, I must ask if you have a pulse or happen to have been stranded on a desert island for the last decade (don't laugh, it happens — just ask Tom Hanks). The ambiance and overall chill factor make this place a great place to work, talk, indulge or just spend the afternoon. You might even see some local celebs — like Si Robins, Beverly Kidd or Chris Bianco — if you are lucky.
The fact that the staff is so attentive and good at what they do just amplifies their staying power. Upon entering after about your third time, you are almost guaranteed to be greeted by name. They recognize my order a mile away. A velvet (their mocha) and the latest pastry to grace the counter. What can I say. I'm predictable.
On this trip, Lux outdid itself. The velvet is arguably my favorite mocha in town. It is always prepared the exact same way — splendiferous. Creamy and piping hot, there is no denying that this milk chocolaty dream is too good to be true. Each sip is like diving into bliss.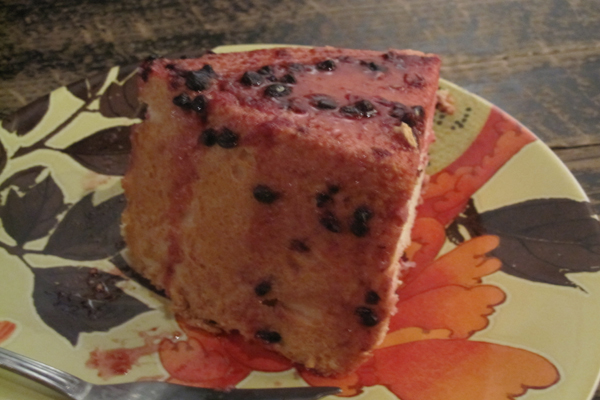 I move on to the crown jewel of the evening, the angel food cake. To mortalize this sugary spectacle by calling it "good" or even "great" would be a slap in the face to its true taste. Every soft, lemony bite was better than the last. The blackberry glaze actually reminded me of the fresh-picked blackberries that my grandmother uses to make her famous blackberry preserves. It made me tear up. Geez, I tear up a lot over food. Don't judge me.
If the title of this entry or its contents reminded you at all to go to Lux today, consider that I did you a giant favor. Don't worry, though. You can pay me off with a velvet or a slice of cake.
Lux is located at 4404 N. Central Ave in Midtown (light rail station at Central/Campbell) — 602.696.9976
---