The portion of Downtown Phoenix that the U.S. Postal Service considers the 85007 ZIP code is diverse to the max, to say the least. That not only applies to the types of homes and living environments, but also to the commercial sector.
The actual boundaries of this ZIP code are 7th Avenue on the east, 19th Avenue on the east, the Salt River basin on the south and Thomas Road on the north.
On the commercial side of things, you have old warehouse buildings along both sides of the railroad tracks, just west of 7th Avenue, from Jefferson to Lincoln streets, which are currently being used for both industrial and artistic purposes. You may have read here at DPJ recently about the .anti_space Gallery relocating to this area.
Moving west along the north side of the railroad tracks, you have the CASS Shelter.  Going further west and slightly north is the state government complex, including our State Capitol building. Continuing north, you arrive at the infamous Lower Grand Avenue, which is emerging as an artistic and vibrant corridor featuring art galleries, cafés (including Sapna Café and the Paisley Violin) and a variety of creative and entrepreneurial businesses.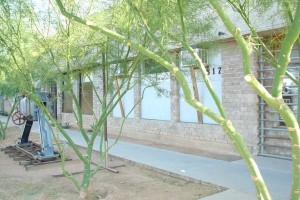 On McDowell Road, you can get a coffee, Asian food or a cocktail, all at the corner of 7th Avenue where Starbucks, Pei Wei and SideBar all reside. Traveling west on McDowell, you will encounter the Arizona State Fairgrounds. Finally, heading north on 15th Avenue, you can enjoy the very large and beautiful Encanto Park and even play a round of golf at the Public Golf Course at Encanto Park. After finishing your time at the park or on the links, you can stroll over to The Original Hamburger Works, a great Downtown burger shop and pub.
As far as living in 85007 goes, there are a wide variety of choices, with eight different historic neighborhoods, an ultra-modern condo complex (PRD 845) and a variety of apartment complexes. Adjacent to and just south of Grand Avenue, the Oakland and Woodland Historic neighborhoods represent the most affordable opportunities for someone to live in a historic district in Phoenix. Some homes in the Woodland neighborhood date back to the early 1900s.
Just to the north of Grand Avenue, straddling both sides of I-10, is the F.Q. Story neighborhood, with 602 homes dating from the late 1920s and spanning a variety of architectural styles, including Spanish Colonial Revival, English Tudor, Craftsman bungalows and Transitional Ranch.
Between McDowell and Thomas and 7th to 17th avenues, wrapped around three sides of Encanto Park, there are five historic neighborhoods, including Encanto-Palmcroft, Encanto Vista, Fairview Place, Del Norte Place and Margarita Place. These neighborhoods feature homes built from 1920 to 1953. Encanto-Palmcroft is the most notable of these neighborhoods, being a past home of  U.S. Supreme Court Justice William Renquist.
Delving into each of these neighborhoods or districts is obviously not possible in one brief blog posting, but hopefully this gives readers a basic overview of some of the things happening in 85007 and what some of their living options may be.
Lyle Plocher is a licensed Arizona real estate broker with the Urban Connection Realty team at HomeSmart. Lyle can be reached at lyle@downtownphoenixjournal.com.
---