I found myself rising early on a Saturday (11 a.m. for you nosy folks) and I was in much need of a boost of caffeine to my system. I had heard a wild party broke out at the grand opening of the new Lola Coffee the previous evening. Since I am of the adventurous motive, I decided I should check it out. Well, I should witness the aftermath at least.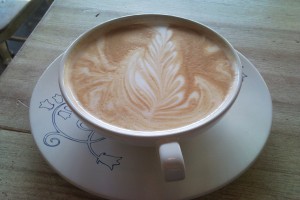 I decided to get the life blood pumping by walking over. Considering that this "season" of winter is generally 70º and sunny by day, this was a good choice. Honestly, I half-expected to find people still crashed out on the floor when I arrived. Sadly, it had on its Clark Kent exterior and was operating as normal. I asked about the night before. Apparently, it was "pretty amazing." Dang, I knew I missed out.
Well, I will tell you that this location's counter is just as wonderfully adorned with sweets and deliciousness as the Central Avenue location, so I was automatically in love with this place. I have occasionally had wild, vivid dreams about the baked goods at Lola — most of them end with me attempting to eat my pillow. I seriously have never tried something from the Lola pastry selection that has not been like a party in my mouth.
I quickly selected a slice of cinnamon coffee cake and my old standby coffee drink: a white chocolate mocha. I love them, and I don't care who knows it.
I went and took my seat with my slice of cake and semi-patiently waited for my mocha. Looking around this place, you can just feel the hip emanating off the walls. It reeks of a quiet cool that is noticeable once you enter the doorway. With wide open spaces, cool art adorning the walls (wondering how they managed to get that huge piece inside the building?) and alluring furniture to rest on, this place is very much one to put on your route.
Once my mocha arrived, I immediately thought of the opening scene in So I Married an Axe Murderer, where the camera follows a giant latte into Mike Myers' hands. "I'm sorry. I thought I ordered the large. Hello!!!" Interestingly enough, I only ordered the medium, and this mammoth drink was placed beside me. I was unsure I could even drink all of it, but my internal caffeine monster was grumbling, so I felt up to the challenge. Also, I had saved my first bite of cake for the moment I had my mocha in hand. I'm fairly certain there were fireworks that exploded in my mouth. This must be what heaven is like. My mouth was running through cinnamon fields of amazingness and my throat was swimming in a sea of white mocha.
There are not enough glorious adjectives that can describe the revelry that my palate encountered at Lola. I thoroughly enjoyed my "manly" coffee drink, and I'm completely OK with that.
Lola Coffee is located at 1001 N. 3rd Ave. in Roosevelt — light rail station at Central/Roosevelt. 602.265.5652
---