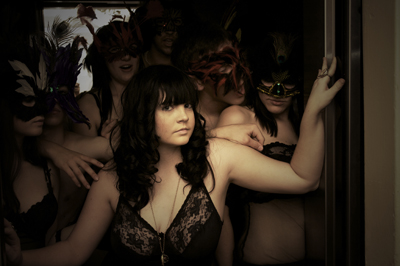 Phoenix-born-and-bred singer/songstress Courtney Marie Andrews is throwing a mega-folk party at Modified Arts on Friday, July 31 to celebrate the release of her second full-length record, Painter's Hands and a Seventh Son. Though just 18, Andrews has been crooning up arts venues around Phoenix for several years now and is a key member of budding Phoenix label River Jones Music.
Painter's Hands offers a more in-depth look at Andrews' music, and a maturity beyond her years.
"I feel like this record was a lot more developed and refined," Andrews says. "During the recording process, I would finish a song, listen to it, and then decide that it wasn't exactly what I wanted. So, I'd add something, or redo it entirely. Initially my goal was to make a more mature-sounding album."
Most important is Andrews' live show, which she's been honing around town quite often over the past few years.
"Live shows are fun," she says. "However, I'm horrible at convincing people to come. But, here is my attempt: It will be super fun and inviting, and I'd love to sing you some of my songs."
The album release party is a small celebration before a whirlwind finish to the year that will see Andrews sitting down to record yet another record in September before touring in support of Painter's Hands.
Andrews is moving downtown following the show at Modified to hole up and finish writing.
"I already have about five songs finished," she says. "I just graduated high school, so I will have almost all the time in the world to focus on my music, which is really nice."
Local indie boys What Laura Says (playing at 9 p.m.) will support Andrews, along with River Jones labelmates You Me and Apollo (8:15), Bradley and the Materials (7:40), In Symmetry (7:05) and the Constellation Branch (6:30).
Andrews will play a set on Radio Phoenix from 8-8:50 p.m. as well.
Doors at 6 p.m. $6. Painter's Hands will be on sale for $10. Also available at Stinkweeds and online.
---