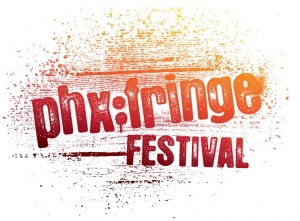 The Phoenix Fringe Festival released its full schedule of performances for the 2009 festival this week, which will bring twenty-nine edgy shows to downtown Phoenix, March 27th-April 5th. Building on the success of last year's debut, this year's PHX:fringe Festival showcases a wide variety of exciting performers from the local, national, and international alternative theatre communities. These artists will converge in the Valley for two weekends of theatre unlike anything Phoenix audiences have ever seen.
This year's PHX:fringe Festival promises to energize the blooming arts scene of the downtown Phoenix area. Audiences will have a wide variety of performance choices, with a total of twenty-nine different shows being presented in a total of 94 performances over the course of ten days. Festival performances will take place in five different venues, and PHX:fringe will also be hosting special events and workshops throughout the week, which will be open to both participating artists and audience members.
PHX:fringe is realizing in Phoenix the mission of fringe festivals throughout the world: to celebrate alternative performance and bring the theatre of tomorrow to audiences today. Los Torrenzos, the renowned performance duo from Spain, will debut Identity, a new work about the immigrant experience. Nationally-renowned New York performer Antonio Sacre, who has been hailed as "a sexual extremist", will perform The Next Best Thing, his hilarious new solo show. Local artists will collaborate with clients from Tumbleweed, a center for Phoenix's homeless youth, to develop and perform The Other Side, a docudramatic piece about their lives. From zany camp musicals to radical political dramas, the festival will feature a wide range of shows, with something for everyone.
Tickets for festival performances go on sale March 4th and are available for purchase online through Showup.com. Individual show tickets are only $7, or save by buying discount passes for multiple shows. The PHX:fringe team is still seeking to add new volunteers, who will receive free tickets.
What: PHX:fringe Festival
Where: Various venues in and around Downtown Phoenix
When: March 27th – April 5th
Info: PHX:fringe Festival
To keep up with all the latest events, sign up for The Journal's newsletter in the top right of this page.
---