Zany. Progressive. Energetic. Fierce. Gut-bustingly hilarious.
That's the Phoenix Fringe Festival, and it's invading Downtown Phoenix arts districts again starting this weekend. The festival's motto is "Go Fringe Yourself!," and since there is so much to see and experience, you could be Fringing yourself all week long.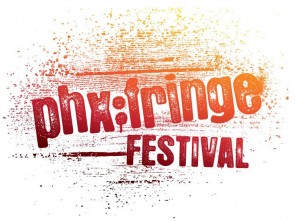 The Fringe is spread across Roosevelt Row (Space 55, Modified Arts, Warehouse 1005), Lower Grand (the Chocolate Factory, Soul Invictus) and the Midtown Arts District (Little Theatre), so plan ahead where you want to be.
The performances range wildly in content and presentation, so be prepared. There's choreographed dancing ("FDance Exposure" at Modified Arts), Vaudeville ("The Slomski Brothers" at Modified Arts), performing sans lighting ("We Do it in the Dark" at the Chocolate Factory) and folk music ("The Tribulations of a Lesbian Folk Singer" at Soul Invictus). That only scratches the surface.
Fringe performers hail from the Valley, Sedona, Philadelphia, Australia, New York, Richmond, San Francisco, Detroit, Los Angeles, Albuquerque and Canada, so expect some cultural divides. It only adds to the mayhem.
If last year's fest is any indication, expect audience participation, laughter, tears, loud noises and lots of makeup.
Tickets ($5 to $15) are purchased on a show-by-show basis, and are available online or at the door. The festival runs April 2-11, see schedule for details. Post-show parties are scheduled April 2-3 at the Paisley Violin, April 9 at the Lost Leaf and April 10 at Bragg's Pie Factory.

Editor's pick
If you can only see one Fringe performance, make it "Picnics at the Asylum," at the Chocolate Factory April 2-4 and 10-11. California-bred Angela Neff tells the true-life story of her dad's transition from successful Silicon Valley family man to a love-preaching streetwalker in Phoenix's skids during the 1980s. "Picnics" is humorous, intensely powerful and heart-breakingly profound. Neff's performance style oozes physicality and wins over audiences everywhere she travels.
---