The Melrose District was one of the hottest places to be in central Phoenix the second weekend of July. Literally.
Approximately 300 people braved the sweltering summer heat to attend the inaugural Hotter Than July Chili Cook-Off and Salsa Fest Sunday, July 10, according to committee member and Wag N' Wash Healthy Pet Center co-founder Steve Strauss.
With misters overhead and cold drinks in hand, patrons sampled and judged chili and salsa from five different teams, danced to live music, and enjoyed the company of other Valley residents.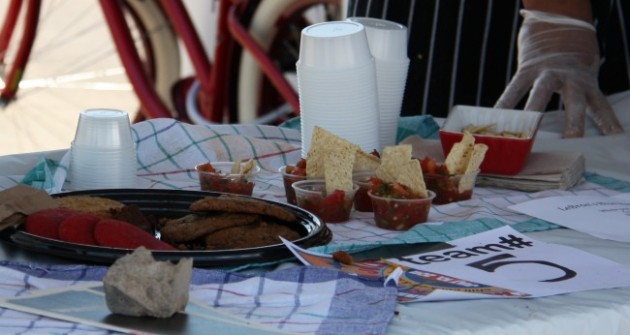 Celebrating Summer in Cen Pho
Why eat chili and salsa outside in Phoenix during the middle of July?
The idea all started about five years ago when both Copper Star Coffee and Wag N' Wash opened up at 7th Avenue and Heatherbrae Drive. Since then, they had always talked about hosting a block party, says committee member and Copper Star owner Bill Sandweg.
About two months ago, the two Melrose shops finally decided to go for it, gaining the help of Lucky 15 Creative and ONE Community.
However, instead of planning the block party for a time of year when Phoenix residents gloat about living in the desert, such as February or March, the event organizers chose to "embrace the heat," Sandweg says.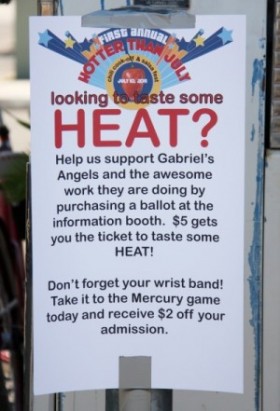 One reason they decided to arrange the event during the hottest month of the year was because there would be fewer events scheduled around the Valley during that time, Sandweg says.
The committee also wanted to show that Phoenix is an exciting place to be year-round.
"We want to show that there is a downtown vibrance and, frankly, fun things to do in CenPho even when the temperature goes up," says Meghan Olesen, committee member and Melrose District liaison.
The decision to host a chili and salsa cook-off fit with the idea of embracing the heat.
"If it's going to be hot, let's make it real hot," Sandweg says.
Phoenix resident Jon Marino, a participant of one of the salsa and chili teams, told the Downtown Phoenix Journal that he was having a great time at the event while taking a break from the heat inside Copper Star Coffee.
"It was a spur of the moment [decision to participate]," he says. "A couple of my friends and I were here last week and found out about it … I'm having a lot of fun."
Good Cause
In addition to showing locals that there are fun things to do in Phoenix during the summer, Hotter Than July wanted to give back to the community.
According to Strauss, the event raised over $600, all of which will be donated to the Arizona-based Gabriel's Angels organization.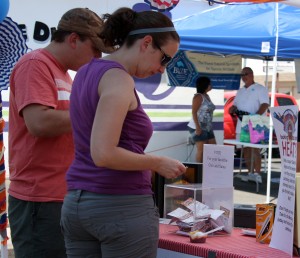 Gabriel's Angels aims to deliver healing pet therapy to abused, neglected and at-risk children in hopes of instilling in them a sense of well-being, safety and happiness, according to its website.
Strauss says coordinating the festival was a great process to be a part of because all of the organizers and sponsors pitched in to help make it an excellent event.
Even though they were unable to attend the cook-off, local restaurant That's A Wrap donated all of the serving containers and utensils used for the chili and salsa.
Strauss says that is one of the things he loves about central and downtown Phoenix.
"There's a real feeling of community and you really get to see it firsthand with an event like this," he says. "It was just a really fun family event. A lot of people from the neighborhood came out, and we're really looking forward to the second annual."
---