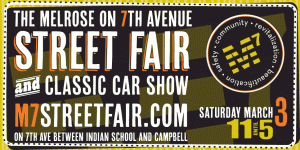 Happy Re-Birthday Melrose!
Every year Valley residents gather in the 7th Ave/Melrose District for the m7 Street Fair, where they chow down food from local eateries, browse through items from local merchants, listen to live music and admire classic cars dating back to the early 1900s.
It all started 11 years ago when a group of Seventh Avenue businesses joined forces to revitalize and beautify the neighborhood, which was suffering from crime and deterioration.
The merchants received grant money from the City of Phoenix Neighborhood Fight Back Program, teamed up with the School of Architecture at Arizona State University, and began to revamp the area.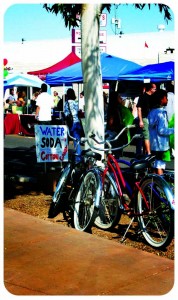 To celebrate its rebirth, the Seventh Avenue Merchants Association held a street fair made up of a few tables, a few dozen classic cars and a few hundred people.
"The first street fair was like a ribbon-cutting for the things that had been done to the district," says event coordinator Meghan Olesen. "Now it's sort of like a birthday."
The fair has grown to include more than 140 vendors, beyond 200 classic cars and 18,000-plus visitors.
"The goal is to provide a free event for people in the Phoenix area and really everywhere … and show them that it's a good place to be," Olesen says.
This year the LGBT-friendly neighborhood has partnered with ONE Community, an interactive web and events community for gay, lesbian and allied individuals and corporations, which will host a healthy living expo at the festival.
The event will also include activities for kids such as a bounce house, an obstacle course, a rock climbing wall, a bungee trampoline, rides and a free craft area.
UPDATE: The music line-up for today's event:
11:00 a.m. SuperStereo
12:15 p.m. Sara McAlister Band
1:45 p.m. Adam Smith (with Shane Cooley)
3:00 p.m. Kingfathand
4:00 p.m. Fatigo
If you go
Where: On Seventh Avenue, between Indian School Road and Campbell Avenue
Date: Saturday, March 3, 2012
Time: 11 a.m. to 5 p.m.
Tickets: Free admission
Contact: M7 Street Fair
---