What's hotter than July in Phoenix?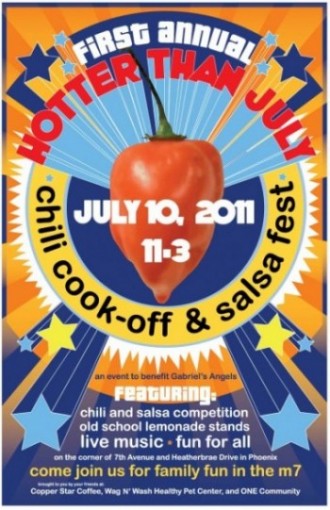 A chili and salsa festival during July in Phoenix!
The inaugural Hotter Than July Chili Cook-Off and Salsa Fest is coming to the Melrose District in Downtown Phoenix, Sunday, July 10.
Copper Star Coffee, Wag N' Wash Healthy Pet Center, ONE Community and Lucky 15 Creative invite Valley residents to sample and judge a variety of locally-made chili and salsas, with all proceeds benefiting the Gabriel's Angels pet therapy program.
How it Started
About five years ago in the Melrose District, both Copper Star Coffee and Wag N' Wash were born.
Ever since, they have shared an intersection, many of the same customers and the idea to eventually host a block party, says Bill Sandweg, owner of Copper Star Coffee and HTJ committee member.
Around two months ago, the companies finally decided to put the block party idea into action.
However, instead of planning the festival for a time of year when Phoenix is experiencing only double-digit temperatures, they decided to "embrace the heat" and schedule it during the summer when fewer events would be happening, Sandweg says.
"We want to show that there is a downtown vibrance and, frankly, fun things to do in CenPho even when the temperature goes up," says Meghan Olesen, Melrose District liaison and HTJ committee member.
Giving Back
The event committee will be donating all proceeds to the Arizona-based Gabriel's Angels organization, which aims to deliver healing pet therapy to abused, neglected and at-risk children in hopes of instilling in them a sense of well-being, safety and happiness, according to its website. The long term goal of Gabriel's Angels is to help children learn core social skills that will prevent them from continuing the cycle of violence as adults.
Steve Strauss, co-owner of the Wag N' Wash Healthy Pet Center and HTJ committee member, says he wanted the festival to have a pet component and that Gabriel's Angels is an organization the committee is passionate about. It also fits with the event's family-friendly theme, he adds.
Gabriel's Angels currently provides free pet therapy services to over 100 agencies and serves 13,000 children annually through nearly 150 pet therapy teams, the website states.
The teams, which usually consist of a volunteer and his or her companion dog, visit the children on a regular schedule to build trust, empathy and respect. The cost to support one team is $2,500 per year.
Team Up
Hotter Than July is still seeking local residents, companies, restaurants and other organizations to form teams of five people or less to participate in this year's event. The registration fee is $100 per team, per entry.
To celebrate Downtown Phoenix's diversity, the committee encourages a wide range of flavors and ingredients. Event patrons will cast their votes, and prize ribbons, hand-crafted by local artists, will be awarded in five categories for both chili and salsa.
"Embrace the Heat"
Lather up your sunscreen, slip on your sandals and bring your appetite for a day of food, music and summer fun, downtown Phoenix style.
"What better way to embrace the heat than a salsa and chili fest?" Sandweg says. "If it's going to be hot, let's make it real hot."
IF YOU GO:
Date:
Sunday, July 10, 2011
Time:
11 a.m. to 3 p.m.
Location:
On Heatherbrae Drive, between 7th and 9th avenues
Admission:
Free. $5 to sample food and receive voting ballot.
---