Joe Dugandzic began podcasting from his Downtown Phoenix apartment in 2009. His original podcast, NidoCAST, was a personal hobby where he covered technology and LGBT news. To spice up the show he began to invite friends on and discovered he had a knack for interviewing. The focus of NidoCAST began to shift to issues relating to the LGBT community in Phoenix so in June 2010 he revamped and rebranded the show to QTalk Arizona, the state's only LGBT podcast.
"It's another way for the community to connect and interact in a way that a print publication can't do," Dugandzic said.
The LGBT community in Phoenix is often criticized for being too disconnected while people in more rural parts of Arizona are almost completely cut off from the larger community. Those people rarely have a way to make their voices heard but QTalk Arizona wants to change that.
Many Voices, One Network
After partnering with N'Touch Magazine, a local LGBT publication in April 2011, Dugandzic began to expand the podcast into a network of talk shows with the tagline, "Many Voices, One Network." In August 2011, QTalk began broadcasting two of its weekly shows live on the Internet to take calls from listeners.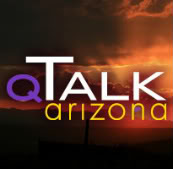 "QTalk is about talking, discussion, communication, and about educating the community about what's going on and to encourage listeners to be active in Phoenix and the larger Arizona community," he said.
Among the voices on QTalk is Dr. Dina, a licensed Marriage, Family, and Child Therapist in California with offices in Phoenix, who hosts the Dr. Dina Hour. SportsCast, a show created out of a partnership with Compete Radio, is the only LGBT sports radio program in the entire country and is hosted by Josh Fourrier, AJ Johnson, Buddy Early, Alfonzo Chavez, Connie Wardman and Eric Carlyle. QTalk Arizona launched a new Food and Wine Show with a panel of casual foodies who just want to share their love of good food and great vino. Babe Caylor, former radio personality and community leader with 1n10, joined QTalk in April 2011 and is co-host on the "Joe and Babe Show." By the end of October there will be 11 shows in the network.
Notable guests on the podcasts have included actor George Takei, Arizona teen activist Caleb Laieski, author Brad Carmack, documentary filmmaker Lydia Nibley, mayoral candidates Greg Stanton and Wes Gullet, as well as a handful of other local movers and shakers.
From Talking To Action
This Friday and Sunday QTalk Arizona is hosting a fundraiser at FilmBar in Downtown Phoenix for Aunt Rita's Foundation, an organization that raises money for HIV/AIDS prevention and assistance for those living with HIV/AIDS in Arizona.
Keith Hartman, the writer/director of a film called You Should Meet My Son, a fish out of water comedy about a conservative Southern mother who decides to find her son a husband after she learns he is gay, contacted QTalk Arizona to see what could be done to show the film in Phoenix. You Should Meet My Son debuted in 2010 at film festivals around the country and won awards in North Carolina, Memphis and Ontario, but was never screened in Phoenix. Hartman agreed to waive any royalty fees if QTalk donated the ticket sales to a local charity. With the 2011 Phoenix AIDS Walk a week away and fundraising in full swing, Aunt Rita's Foundation was a worthy recipient. Tickets can be purchased on line from FilmBar's website.
Dugandzic believes that QTalk Arizona will help unite the LGBT community more effectively by focusing on local issues and giving people more ways to become involved.
"The hosts of the shows need to know what's going on in the community. They need to be involved and they need to encourage listeners to do the same. For example, if Equality Arizona needs people for a phone bank, we want to be there. Last week we were at Sedona Pride. We'll be at the Rainbows Festival the first weekend in October and at Tucson Pride in mid-October. Right now we are still new that we are trying to get the word out, but we're growing. I can't wait to see where we will be in 6 months."
Disclaimer: The Author of this article helped organize the fundraising event mentioned in the article.
If You Go
Who: QTalk Arizona
What: HIV/AIDS prevention fundraiser
When: Friday, September 23rd at 10PM and Sunday, September 25th at 4PM
Where: FilmBar
Cost: $7 – All ticket sales will be donated to Aunt Rita's Foundation
---