This Sunday, March 20, Abigail Washburn will grace Phoenix with her presence at The Rhythm Room.
The 31-year-old is supporting her recently released a new album, City of Refuge, which with no surprise is as glorious as her other work. Washburn is a banjo-playing, singer-songwriter who shows off her Americana skills with every note and word on her record.
In the title track, she reels you in with the rawness of her banjo and chilling vocals and then transitions to a hum of strings that will have you falling in beat. This is topnotch songwriting.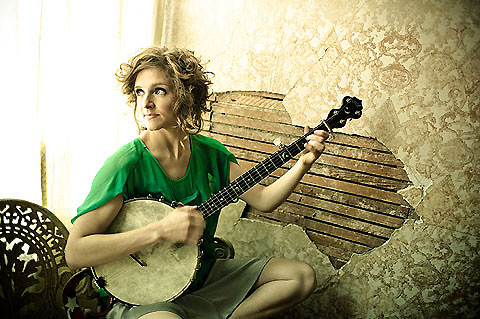 Clearly, Washburn is no new-timer to the music industry. She picked up the banjo before deciding to study law at Beijing University in China. After traveling the East Coast, she started playing the old-time sound and headed south.
Washburn happened to play the write songs to the right people and got offered a record deal. Let's just say the rest is history.
Before going solo, she played with Uncle Earl and then released her first solo record, Song of a Traveling Daughter.
It's been five long years since her last solo release, and it sounds like she's definitely been preparing for this one. In this record, the banjo takes the passenger seat while her vocals take over.
The soft sounds of the banjo, piano and strings never overpower her soulful voice, while guest vocalists Ketch Secor and Morgan Jahnig from Old Crow Medicine Show add a nice touch to "Bring Me My Queen."
Take advantage of this old-time, bluegrass sound in Arizona, because it doesn't happen as often as it should.
Tickets are $12, doors open at 7:30.
The Rhythm Room is located at 1019 E. Indian School Rd. in Midtown — 602.265.4842
[iframe_loader src="http://www.google.com/maps?f=q&source=s_q&hl=en&geocode=&q=1019+E+Indian+School+Rd,+Phoenix,+AZ+85014&aq=0&sll=37.0625,-95.677068&sspn=38.092988,90.263672&ie=UTF8&hq=&hnear=1019+E+Indian+School+Rd,+Phoenix,+Maricopa,+Arizona+85014&t=h&ll=33.494218,-112.059748&spn=0.025052,0.036478&z=14&iwloc=A&output=embed" height="240″]
---