Genuwine, a wine and beer bar, will be adding their local flavor to Roosevelt Row this December. Emily Rieve and Lindsey Schoenemann, the co-owners, are opening this self-serve wine bar in the Union @ Roosevelt, located at 1st Ave. and Roosevelt St. in the historic Roosevelt neighborhood.
This is Rieve and Schoenemann's first business venture. The pair are former math and science teachers who decided to take a drastic turn in their careers.
"We just needed to take a pivot from our career in teaching and we wanted to put our passion and innovation into a new project," said Rieve.
This wine and beer bar will feature self-serve wine technology which is a first of its kind here in Arizona. Guests will be able to sample any of 24, locally-produced wines while enjoying build-your-own cheese boards.
Rieve was inspired after a trip to France with her husband where she first saw this self-serve technology and wanted to bring it to Phoenix.
"Being teachers, Lindsey and I are very into technology, creating things, and new, innovative items so we decided to bring that technology to downtown Phoenix," said Rieve.
According to Rieve, guests will receive a card that allows them to use the self-serve machines. Guests can then choose a tasting, half, or full glass of wine, and if you find a wine you can't live without, you can buy the bottle to take home.
Genuwine will serve only Arizona-produced wines from wineries such as Dos Cabezas, Page Springs, Chateau Tumbleweed, and dozens more. According to Rieve, the self-serving technology is the best way to promote Arizona wines because it allows guests to sample each wine.
In addition, Genuwine will also have local cheeses and produce for the build-your-own cheese boards, and local beer on tap.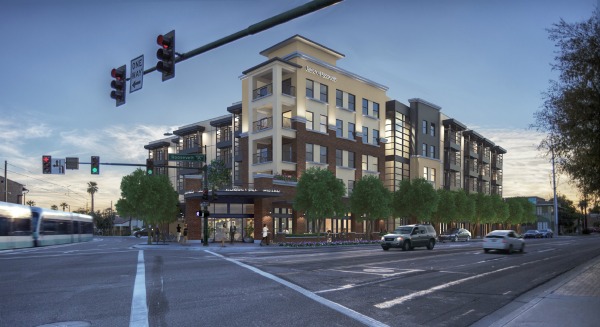 Rieve and Schoenemann chose downtown Phoenix for the spot of their first restaurant because they said they love the community feel of Roosevelt Row. According to Rieve, the developers at the Union and other business owners on Roosevelt have been welcoming and helpful to the new business owners.
"We had always talked about a neighborhood wine bar being part of the retail component of our project – and couldn't be happier for Emily and Lindsey with their new concept," said Matt Seaman, the development partner at Metrowest Development. "Genuwine will be as much of an amenity for our residents as it will for the Roosevelt neighborhood and downtown community."
The wine bar will be opening across the street from the Episcopal Diocese of Arizona, which required a special permit. However, Rieve said that they have been very supportive of the new business. The Rev. Kirk S. Smith even attended one of Genuwine's zoning hearings.
"Genuwine will be a nice addition to the downtown cultural scene," said Rt. Rev. Kirk S. Smith, Fifth Bishop of The Episcopal Diocese of Arizona.
Photos courtesy of Genuwine Arizona and Metrowest Development. 
---