DPJ's Wire series delivers news and information straight from the source without translation.
The Vig, The Little Woody, Linger Longer Lounge and Ladera Taverna y Cocina have partnered with Tempe-based, Pedal Haus Brewery to support Chrysalis for the October edition of their Community Handle program.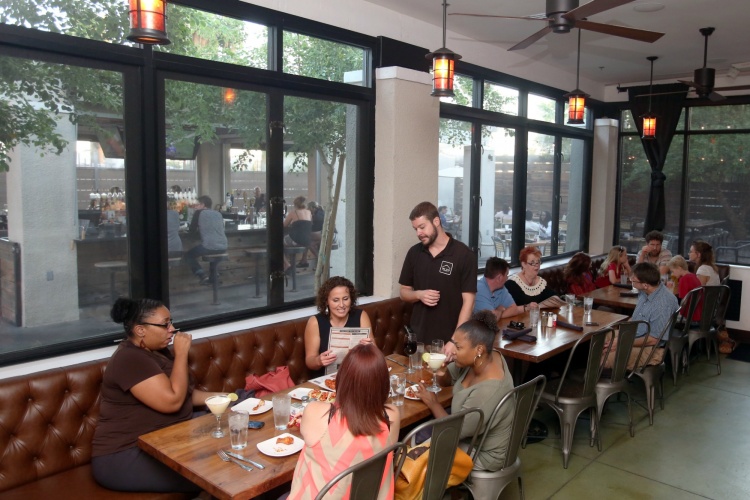 Every month, Genuine Concepts hosts its Community Handle program at The Vig, Linger Longer Lounge, The Little Woody and Ladera Taverna y Cocina. The Community Handle is a charitable program which features a participating brewery to sponsor chosen organizations within the greater Phoenix area. With October being National Domestic Violence Awareness Month, The Vig, The Little Woody, Linger Longer Lounge and Ladera have partnered with Pedal Haus Brewery's Haus IPA to help support Chrysalis. With each pint of Haus IPA sold, each concept and Pedal Haus Brewery will each donate $1 to Chrysalis.
Chrysalis has been an organization in Phoenix for several decades and has transformed the lives of many individuals impacted by domestic abuse throughout the years. More than 36 years ago, a woman opened up her home as a safe house for both women and children who had been victimized by domestic violence. Within three years, funding was received to expand these services into a 24 hour crisis shelter. During the first year, more than 450 women and children received assistance and the comfort of a safe haven to develop their self esteem and independence.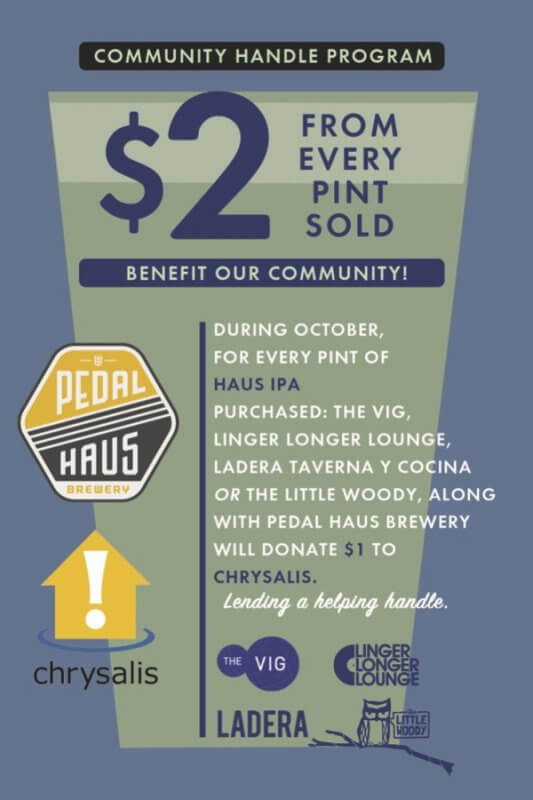 Since that time, Chrysalis has been serving the needs of women, children and men throughout the Valley who are trying to break the cycle of violence and abuse with a wide array of comprehensive services, including emergency shelter, long-term housing, court advocacy and counseling services. The number of lives affected by Chrysalis has grown fourfold since its inception, with more than 1,400 individuals now being helped each year through the efforts of Chrysalis staff and volunteers.
Pedal Haus Brewery originally opened its doors on Mill Avenue in Tempe in September 2015 and just 10 months later, owner, Julian Wright, decided that the space needed a brewery facelift. Pedal Haus temporarily closed its doors in the summer of 2016 and reopened the following November with a fresh remodel and expansion.
Pedal Haus beer has been increasingly popular over the past several years with their Haus IPA being one of their top sellers. The Haus IPA is a traditional American IPA brewed with simcoe, amarillo and falconer's flight hops. This refreshing brew pairs perfectly with a variety of bites and is a great fit of a beer to begin the fall season with. Genuine Concepts is excited to have it on tap for the month of October!
Each month, Genuine Concepts looks forward to the opportunity to give back to the community and show support in anyway possible through the partnership of close brewer relationships and its local customer base. Come help Chrysalis by ordering a Haus IPA anytime during the month of October and support National Domestic Violence Awareness Month at The Vig, The Little Woody, Linger Longer Lounge and Ladera Taverna y Cocina!
Images courtesy of Genuine Concepts.
---