DPJ's Wire series delivers news and information straight from the source without translation.
The Lost Lake Festival from Superfly, the co-creators of Bonnaroo and Outside Lands, announced the daily festival lineup, featuring headliners The Killers, Chance the Rapper, Major Lazer, Odesza, The Roots, Run The Jewels, Pixies, HAIM, and Huey Lewis & The News. Single-day general admission and VIP tickets for the new three-day, multi-format music festival in Phoenix go on sale Friday, Sept. 8 at 10 a.m. PT, exclusively at LostLakeFestival.com.
Lost Lake brings an impressive lineup to the vibrant Arizona desert with more than 40 musical acts, and new artist additions including Dreamcar, a new supergroup featuring No Doubt's Tom Dumont, Tony Kanal and Adrian Young, and AFI's frontman Davey Havok. Newly added acts also include, The Dap-Kings, Poolside, Striking Matches, and local rising bands from Phoenix, Fayuca and Trinidad Cardona. The festival will also offer a Superfly signature experience, SuperJamTM, a curated group of artists and musicians who will perform together for a once-in-a-lifetime collaboration, featuring The Dap-Kings and special guests.
The festival kicks off Friday, Oct. 20 at Steele Indian School Park in Phoenix. The complete day-by-day lineup includes:
FRIDAY, 
October 20
Chance the Rapper
Pixies
HAIM
Ludacris
Crystal Castles
Calexico
NoName
BROODS
The Dap-Kings
Johnnyswim
Trinidad Cardona
Striking Matches
The Shelters
Luna Aura
Lost Lakes
SATURDAY
October 21
The Killers
The Roots
Huey Lewis & the News
Dreamcar
Lil Jon (DJ Set)
Kongos
Lil Yachty
SuperJamTM featuring the Dap-Kings and Special Guests
Carla Morrison
Tritonal
JR JR
MUNA
Frenship
Taylor Bennett
Bogan Via
Reverb Nation winner
SUNDAY
October 22
Major Lazer
Odesza
Run the Jewels
Big Gigantic
Juanes
Snakehips
Danny Brown
Highly Suspect
Poolside
Real Estate
A Tribe Called Red
Futuristic
Fayuca
Caye
Playboy Manbaby
Along with a highly-anticipated musician lineup, Lost Lake was founded as a creative platform for the Phoenix community and reflects the city's rich and dynamic culture through a curated selection of arts and entertainment, elevated local culinary and beverage offerings, and unique game experiences.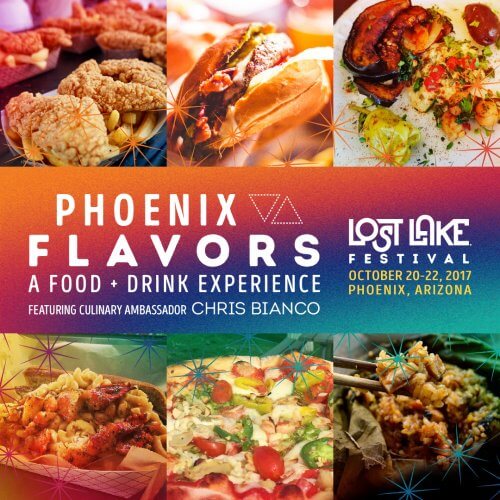 Festival fans will enjoy more than 30 top local chefs, restaurants, and breweries representing Phoenix's vibrant food and drink scene, with local eats at Phoenix Flavors, craft beers at Brewpark, BBQ at The Lava Pit, and mezcal and tequila cocktails and tastings at Nectar of the Gods. Chris Bianco, Phoenix-based James Beard award-winning chef and author, joins as the festival's Culinary Ambassador, bringing together the best feasts and treats from the Valley, including tastes from his own Pizzeria Bianco.
Festival-goers will also enjoy a magical experience with larger-than-life games in The Lost Playground. Created in partnership with longtime Bonnaroo collaborator and Phoenix-based Walter Productions, The Lost Playground has reimagined everyone's favorite backyard and billiard games in unexpected ways. From a Giant Pool Table played with bowling balls to Colossal Croquet so large a player can follow their ball through the hoop, these games are the ultimate adult playground. When the sun goes down, more than ten custom designed games light up with colorful LED and glow-in-the-dark features.
Three-day General Admission and VIP tickets are now on sale for Lost Lake, Oct. 20-22, 2017, at Steele Indian School Park in Phoenix. Buy three-day tickets now for $224.50 before Last Call pricing takes effect on Oct. 1, 2017. Learn more at LostLakeFestival.com and follow along on Twitter @lostlakefest, Facebook facebook.com/lostlakefest and Instagram @lostlakefest.
All photos are courtesy of the Lost Lake Festival. 
---