DPJ's Wire series delivers news and information straight from the source without translation.
The event that helped launch the First Fridays Art Walk phenomenon is expanding from two to four days in 2017. Art Detour 29 on March 16-19 will feature a diverse slate of activities created by local artists and art venues to celebrate the growing, vibrant Phoenix arts scene.
The 29th year of this signature arts and culture event includes the 5th annual Art d'Core Gala, a special Third Friday Gallery Night, and an Art Detour weekend schedule of demonstrations, installations and more. The event is produced by Artlink Inc., a 501(c)(3) nonprofit, in partnership with the City of Phoenix and Downtown Phoenix Inc.
Named as "one of the most important events in Phoenix's calendar" by City of Phoenix Mayor Greg Stanton, Art Detour encourages conversation and inquiry, and directly connects the public with the artists in our community. The event is a result of a collaboration between artists, galleries, cultural venues and businesses offering their spaces for one-time exhibitions. Visitors are invited to witness the vital Phoenix arts community in many varied forms.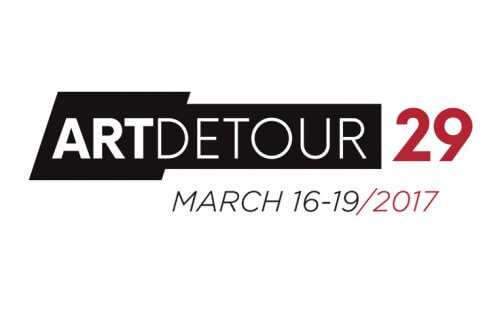 "We consider Art Detour 29 the penultimate event of a significant 30-year history of Artlink and for the Phoenix arts scene as a whole," said Catrina Kahler, Artlink board president. "Artists have created much more than their own work in this time. They have contributed to our environment, built businesses, developed districts, and created a textured downtown for the sixth largest city in the nation. Art Detour tells this story and invites Phoenicians and springtime visitors to buy art for their home or tickets to a performance, all in support and celebration of our city's creative economy and culture."
A Party to Kick off the Weekend
The annual celebration begins Thursday evening, March 16, at the 5th annual Art d'Core Gala. Held at Warehouse215 @ Bentley Projects in the heart of the emerging and dynamic Warehouse District. This fun spin on a traditional "gala" annually spotlights the significant contribution of the arts in creating a dynamic city.
The Art d'Core Gala is hosted in partnership with the Office of the Mayor, City of Phoenix Office of Arts & Culture, and Downtown Phoenix Inc. This is a ticketed event and proceeds benefit Artlink Inc. Tickets go on sale January 16, 2017.
Take a Detour Beyond Phoenix's First Fridays
Did you know artists don't open their studios to the public on the popular First Fridays? Or that galleries don't always schedule their exhibition openings on these nights? First Friday only skims the surface of what makes Phoenix's arts community special.
Art Detour 29 is an invitation to take a deeper dive, by meeting with established and emerging artists, some as special engagements in their own studios; experiencing demonstrations and discussions; and finding original works from a talented pool of Phoenix artists who are exporting their work to cities around the world.
Expanded Hours
In addition to these daytime activities, Art Detour 29 will feature an expanded and varied schedule, with some events taking place outdoors, capitalizing on Phoenix's pleasant March weather. This includes a morning walk and nighttime events and openings, coinciding with March Third Friday "Gallery Night." A sample of these unique happenings includes:
7 to 10 p.m. Friday and Saturday, March 17-18 – "Intersection" is a temporary digital projection project designed to transform a public space in downtown Phoenix. The second in a series, this installation combines video, sound, and interactivity powered by advanced rear-projection digital technology to morph a building into a glowing canvas after dark. This project is a partnership between the Phoenix Office of Arts and Culture and Downtown Phoenix Inc. Visit phoenix.gov/arts.
7 a.m. Saturday, March 18 – The Museum of Walking (MoW) presents theWALK, a 90-minute contemplative walk at Rio Salado Habitat Restoration Area in Phoenix. Join 1000 bodies walking in silence and moving mindfully through public space. This is a ticketed event. Proceeds go to future MoW programing and artist projects. Rio Salado Restoration Habitat, Phoenix Visit mowthewalk.org.
8 p.m. to 1 a.m. Saturday, March 18 – The Alwun House hosts the 33rd Annual Exotic Art Show Finale, featuring House of Cirque and Ernesto Moncado. Mature subject matter, under 18 accompanied by an adult. This is a ticketed event and proceeds benefit Alwun House Foundation. Visit alwunhouse.org.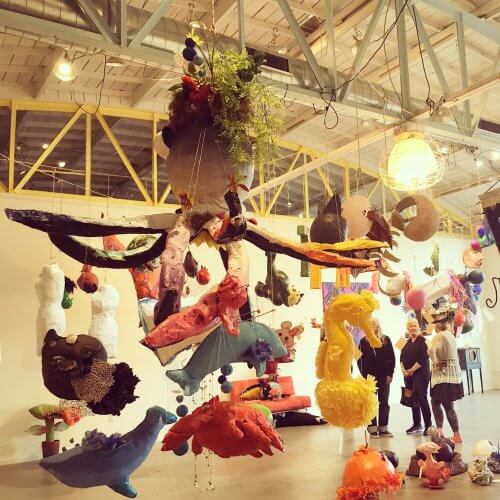 Art Detour 29 Schedule of Events, 2017
March 16, 6 to 9 p.m.
Art D'Core Gala. The arts party of the year!
March 17, 6 to 10 p.m.
Pre-Detour Third Friday. A special gallery night of exhibition openings and receptions.
March 18-19
The Art Detour! Phoenix's original art walk includes studio visits, art space tours and one-time exhibits and installations. A map and shuttles will guide visitors throughout the weekend.
Getting Around
Artlink will once again provide shuttle service enabling the public to park the car or bike and hop on or off at galleries throughout downtown. Knowledgeable docents staff the trolleys helping to guide new and returning visitors. Scheduled times for the trolley are 11 a.m. to 5 p.m. Saturday and Sunday, March 18-19.
For more information about Art Detour 29, visit artlinkphx.org.
Images courtesy of Artlink Phoenix.
Ed note: DPJ publisher Catrina Kahler is President of Artlink Inc.
---