DPJ's Wire series delivers news and information straight from the source without translation.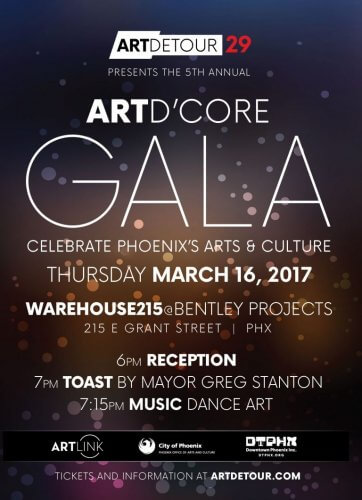 The Art d'Core Gala, the opening night kick-off to Art Detour 29 will take place Thursday, March 16 at Warehouse215 in downtown Phoenix's Warehouse District. The event, hosted by Artlink in partnership with the City of Phoenix and Downtown Phoenix Inc., will feature a one-night-only exhibition of works presented by an inaugural collaboration of a group of Arizona-based artists who have committed participation and support to a new Artlink initiative. Tickets for the Gala can be purchased here.
Works by Christine Cassano, Bill Dambrova, Pete Deise, Jeff Falk, Fortoul Brothers, William LeGoullon, Annie Lopez, Ann Morton, Rembrandt Quiballo, Joe Ray, Randy Slack, and Marilyn Szabo will be on display during the event.
These established professional artists have worked 10 years or more in exhibiting and/or producing exhibitions that shine a spotlight on Phoenix; represent the diverse cultural identity of our city; and have contributed significant time/energy to either Art Detour/Artlink and/or partner initiatives that strive to elevate the profile of Phoenix's creative community.
A brief program celebrating the arts and culture community's contribution to the development of a dynamic downtown Phoenix will be capped by Phoenix Mayor Greg Stanton's annual "Toast to Downtown."
Art d'Core serves as the kickoff to an "Artist Forward" Art Detour 29 weekend, March 16-19, a four-day, multi-faceted exploration of the arts and culture of America's sixth-largest city. All are invited to celebrate, support and enjoy the festivities, including music and dancing, and a no host bar.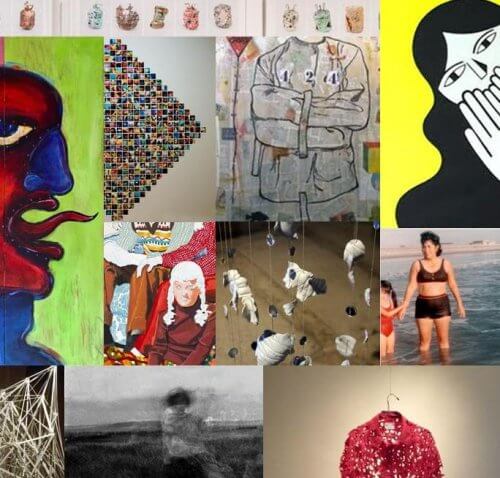 "We are honored and very happy to showcase the expressions of so many gifted and established Phoenix artists in one place at one time as we kick off the 29th year of Art Detour," said Artlink Board President Catrina Kahler. "These talented artists are among so many who are making a significant contribution to creating a dynamic urban core and we are grateful to have a mayor who shares this appreciation."
This creative spin on a traditional gala is hosted by Artlink in partnership with the City of Phoenix and Downtown Phoenix Inc. at Warehouse 215 at Bentley Projects, in the heart of the emerging and dynamic Warehouse District.
Tickets at $10 per person, $15 per couple are available until 6 p.m. March 15 at artdetour.com. Tickets will then be available at the door for $15 per person, $20 per couple. Come as you are; creative cocktail attire encouraged.
The event is a fundraiser for Artlink, an active all-volunteer 501(c)(3) non-profit organization, with a portion of the proceeds dedicated to a new artist development fund designed to help provide direct financial support to local artists.
If You Go
What: 5th Annual Art D'Core Gala
When: Thursday, March 16 from 6 p.m.-9 p.m.
Where: Warehouse 215 at Bentley Projects, 215 E. Grant Street
Tickets: $10 per person, $15 per couple. Purchase tickets here.
Meet the artists featured in the Art D'Core Gala exhibition (not pictured: Annie Lopez.) Click on photos below:
Ed note: DPJ publisher Catrina Kahler is President of Artlink Inc.
---