DPJ's Wire series delivers news and information straight from the source without translation.
The Federal Transit Administration (FTA) has granted a significant environmental approval for the planned South Central Light Rail Extension that moves the project closer to being built. The approval allows Valley Metro and the City of Phoenix to proceed with final design work on the extension, a milestone necessary for the project to be completed by 2023.

The FTA's Finding of No Significant Impact (or FONSI) follows an extensive environmental review of the South Central Extension. The review studied potential impacts to the neighboring environment including noise and vibration, air quality, as well as historical and archaeological resources. The receipt of a FONSI is required before final design work can begin on projects overseen by the FTA.
"Extending light rail to South Central Phoenix is vital to our long-term economic success," said Phoenix Mayor Greg Stanton. "Phoenix residents told us they wanted to invest in transportation. With this approval, and with the FTA's consistent support for our long-term transit plans, we have moved closer to becoming a more-connected city and region."
The South Central Extension was originally slated to be finished in 2034, but its completion was moved up to 2023 after Phoenix voters overwhelmingly approved Transportation 2050 (T2050), a multi-modal transportation initiative, in August 2015. The City of Phoenix worked with Valley Metro to advance planning and construction of the project based on the high transit demand, strong community and federal support and approval from Phoenix's Citizens Transportation Commission (CTC) oversight board.
"Support from local and federal partners reinforces the importance of this extension," said CTC Chair and former Arizona Congressman, Ed Pastor. "The CTC is committed to guiding projects like the South Central Extension to ensure Phoenix voters' needs are met."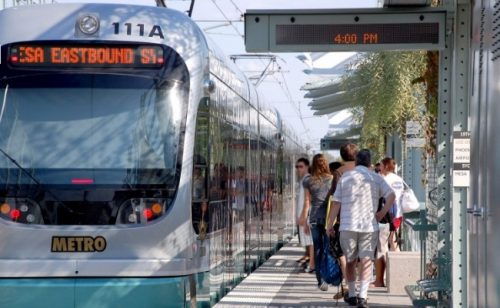 Additionally, community support has helped drive this project. South Central residents, business owners and advocates have engaged with Valley Metro, City of Phoenix and the FTA across the last four years, from the initial concept to this recent milestone.
"We have been working very closely with Phoenix and Valley Metro to bring light rail to our community," said Eva Olivas, Executive Director of Phoenix Revitalization Corporation. "The extension will offer an opportunity to share the unique culture of Central City South and South Phoenix with the entire region."
T2050 Campaign Chair, Phoenix Vice Mayor Kate Gallego and Phoenix Councilmember Michael Nowakowski, whose districts share the project, have long supported the project.
"This finding is a green light for a bright transit future along Central Avenue and the Warehouse District," said Phoenix Vice Mayor Kate Gallego. "Light rail is a proven driver of economic activity and now we're on track to see its benefits by 2023, 11 years earlier than originally planned."
"This ruling means we're still on track with our aggressive construction timeline for the South Central Light Rail Extension, which is great news for the businesses and residents that will be served by this line," said Phoenix Councilmember Michael Nowakowski.
To learn more about the project, visit valleymetro.org/southcentral.
---