Bikini Lounge, in the Grand Avenue district, is a neighborhood bar. Its regulars know it as a place where secrets are shared, relationships are started and ended, stories are told, true or not, and where anyone — even the occasional celebrity — can spend a night either going entirely unnoticed by anyone but the bartender or being treated as equally as everyone else.
Outside, the awning and brash lettering of the bar's name call attention to the place from the street. Inside, current owner Matt Tomb mixes a cocktail and takes a stool to tell me how the place was born.
All around him, the hallmarks of tiki style abound. The mugs, the art, the antique front window imprinted with a fading image from a blown-up photograph (presumably taken by the bar's founder). Much of the art was created by locals. Everything here is either semi-antique or custom-made or both. Even the newest section of the bar itself is 20 years old.
Matt is chatty, friendly, wears a black t-shirt and faded Levis — all the things you'd expect from a bar owner — but he's not nearly so outspoken as his surroundings. "We're not barkers," he says of his generation (he turns 43 this year). "Nobody likes chest-beaters."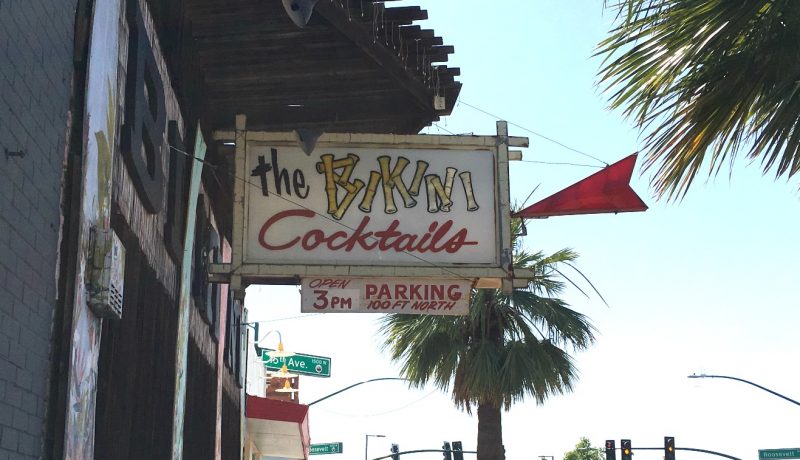 Indeed, not once during our talk does he chest-beat. He doesn't have to. Bikini Lounge comes with a story. As it turns out, it's far more than a neighborhood bar, and tiki is anything but camp, and Matt is nothing if not wholly respectful of the history of both.
It started 10 years before the place even had a front door, way back in the 1930s.
"Post-Depression," Matt says, "this form of escapism in a Polynesian atmosphere was kind of a thing."
The middle class was on the rise. Travel was becoming more affordable. In 1934, a man called Don Beach (not his given name) opened his Don the Beachcomber restaurant in Southern California, the first attempt to get the tiki movement going. Soon, it had become a hot spot for Hollywood elite. In 1937, Vic Bergeron opened the first Trader Vic's.
Tiki style, basically, represented the birth of the theme restaurant.
A few years after tiki culture found footing, World War II started, raged on, and came to an end. Soldiers came home looking for an escape — ideally, one with Polynesian flair. (Polynesia, by the way, is a subregion made up of over 1,000 islands in the central and southern Pacific, a few of which comprise Hawaii, where a good number of soldiers had just spent a lot of their time. We liked that chunk of the region so much, we cemented the relationship by making Hawaii a state in 1959.)
In no time flat, post-war America found itself in the thick of a tiki trend. By the '50s, it was all over the movies and television, and a truckload of restaurants had taken their own crack at tiki style. In the '60s, even two Phoenix neighborhoods took on a Polynesian theme: Sands West and Sands Oasis, whose floor plans had names like The Hawaiian and the Samoan. (Architecturally, there are still a few signs of the design style in place in these neighborhoods, but most have disappeared.)
But what started as a contrived experience, an escapist experience, has since become something else. At first nothing more than an apply-here theme, potentially no less tacky (or appealing, depending on your tastes) than Hard Rock Café or Rainforest Café have been in more recent decades, tiki has now been around for nearly 90 years and has become as authentically American as jazz. Like "drive-in theaters and car-hops," Matt says. (Apple pie's first recorded recipe, in fact, showed up in 1381 in England; tiki is way more American than that.)
Tiki's determination to stick around is partly what brought Matt Tomb to Bikini. It's no accident that he owns the place. "I'm more interested in the history," he says. "It's a lot of work to be a bar owner."
How did tiki happen to invade Phoenix?
In the late '40s, the intersection of Grand and 15th was pretty much the outside edge of our fine city. "Either you left it from downtown or you were on your way in," says Matt. And there was a gaggle of ways to mark the occasion; truckers and soldiers and anyone else with wheels could drive into town and find themselves suddenly in the center of a party-fueled row of restaurants and bars, many offering just the escapist experience they were hoping to find. "Grand and Van Buren were littered with hotels and motels and restaurants and bars that had some form of Polynesian in it."
Cue Bikini Lounge.
It opened in 1947. It was 17 years before the first episode of Gilligan's Island, the hit TV show that was likely your first encounter with tiki culture.
Though there are a few hints of tiki style still around, in today's Phoenix, Bikini Lounge is the only original mark left.
To find out what happened, you'll have to read Part 2 of this 2-part series next week.
Photos by Robert Hoekman, Jr.
---