Next time you're on Grand Ave., look for the Red Cottage at ThirdSpace, just off of 11th Ave. What used to house Grind House Coffee is now home to Novel Ice Cream, an ice cream shop featuring 12 unique flavors of handcrafted artisan ice cream.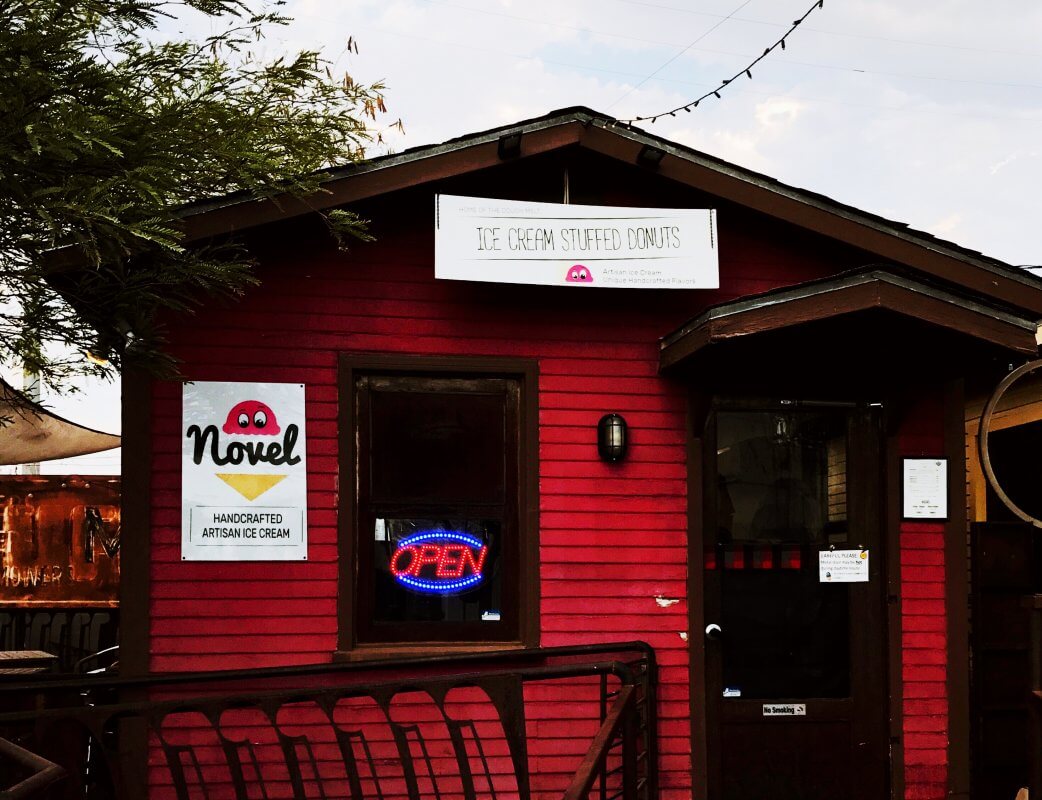 The ice cream shop has only had its doors open since mid-March, yet some customers have already flocked from Peoria to Gilbert to try the ice cream offered inside this 250 square foot space.
The brick and mortar is family-run by co-owners Brandon Douglas and his wife Jennifer, and occasionally Brandon's niece, Taryn Bell.
Its ice cream menu includes eight staples and four unique rotating flavors that are updated almost every 48 hours, all made by a woman with over 30 years of ice cream-making experience.
"Ice cream is a culinary blank canvas," Brandon said. "You can do anything with the limitless possibilities for flavors."
Novel's signature flavors include Fat Elvis, a peanut butter ice cream with honey glazed bananas and bacon, and Honey Lavender, a sweet cream base featuring pure honey and real organic shaved lavender flowers. Its best seller is Bourbon Caramel Toffee Crunch, made with real bourbon, handmade caramel and chocolate-covered toffee pieces.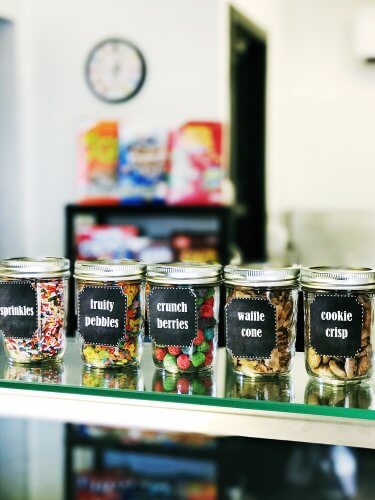 Upon choosing your flavor, you can pick from 4 different cones, including the classic waffle cone or a pretzel cone if you're feeling more adventurous (or you can just stick with a cup). Plus, don't forget to deck your creation with fun toppings like chocolate sauce and sprinkles. Each scoop is also topped with a Stroopwafel Dutch cookie, imported from the Netherlands.
The place is even developing a hidden menu, created by customers who have concocted such delicious combinations that others have requested the same items. Make sure to ask about these gems when you stop in.
If you can't decide on what to get, try "The Indecision," a flight of five scoops and a topping of your choice.
The fun doesn't stop here. Novel is all about embracing novelty items, hence its name.
"This place allows us to put all the things we love under one roof," said Brandon.
Besides the 12 unique ice cream flavors this joint has to offer, you can also treat yourself to a float with a Pop the Soda Shop ice cold craft soda such as Dang!, Jolt Red Eye or Sprecher Cream Soda, or you can drink any of the dozen glass bottle soda options plain.
For you Parks and Recreation fans, Novel offers a European-style waffle ice cream sandwich, called "The Leslie Knope."
Douglas and his wife enjoy thinking up pop culture references that inspire new ice cream flavors as well, so be on the look out if you go. Past flavors include Butterbeer from Harry Potter and Bluth's Original Frozen Banana Stand-inspired ice cream from Arrested Development.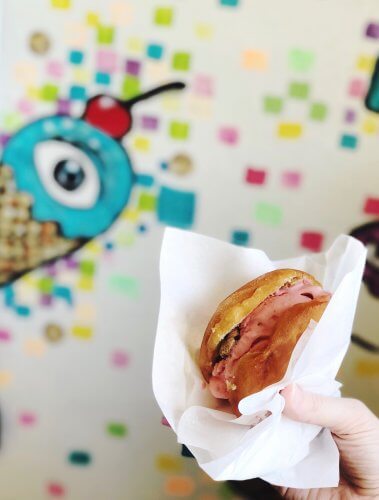 Novel is also becoming infamously known for its "Dough Melt" — a warm, locally made glazed donut bun stuffed with ice cream.
The shop offers a couple of vegan and gluten-free options as well, at no extra charge, and it even has dog-friendly treats for those with furry friends.
Only patio seating is available, but customers are welcome to stand and eat their ice cream inside during the less busy hours. Many ice cream shop-goers actually choose the latter to converse with the owners about their offerings, and sometimes just about life.
Whether you stay inside or head to the patio, don't forget to snap a pic of your ice cream creation in front of the interior walls of Novel before devouring it. They feature neon colored ice cream cones painted by local artist Joe Gonzalez.
Novel has had a humbling amount of success since opening. The Grand Ave. community, in particular, has been exceptionally supportive.
"We were moved in here for 20 hours and they treated us like they've known us for 20 years," said Brandon, talking about other Grand Ave. tenants.
Not only does the place already have weekly regulars, but newcomers stop by all the time to experience all the novelty items it has to offer.
"Our goal for this place is essentially to continue meeting really awesome people who are fans of what we do and see where this journey takes us," said Brandon.
If You Go
What: Novel Ice Cream
Where: 1028 Grand Ave., Cottage #6
When: Tuesday-Thursday, 12 p.m. – 10 p.m.
Friday & Saturday, 12 p.m. to 1 a.m.
Sunday, 12 p.m. – 5 p.m.
Closed Monday.
For more information, check out Novel's Facebook and Instagram pages.
Photos by Mila Suzich.
---