DPJ's Wire series delivers news and information straight from the source without translation.
Living Art: 118-unit Infill Development to Open in Phoenix This Summer
Downtown Phoenix lot given new, art-inspired purpose by Scottsdale developer
Downtown Phoenix will see another multifamily property rise from the ashes of a decades-old building this summer.
Proxy333, located at 333 E. McKinley St., immediately west of the Biomed campus, is being co-developed by Scottsdale's Tilton Development Company and Seattle-based Goodman Real Estate. The 118-unit, six-story urban infill project is scheduled to open for occupancy this summer.
While new multifamily projects aren't unique to this particular market, Proxy333 uniquely pulls inspiration from its foundations and the culture that grew around its original building.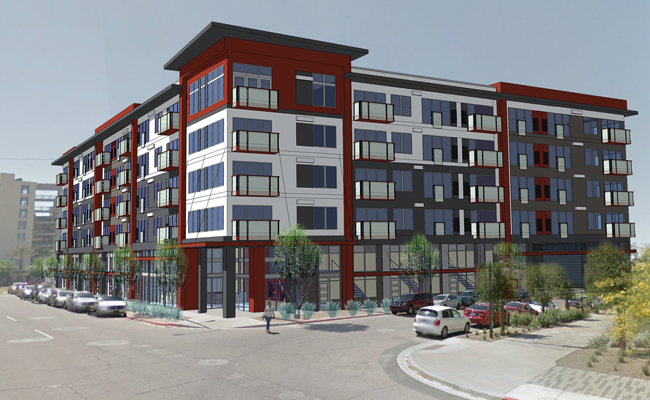 "We're proud to be a part of the downtown Phoenix culture," says Bryan Fasulo, regional property manager with Pinnacle Living, which manages Proxy333. "We are bringing this lot's historic role as an artistic hub into the 21st century and are excited to share the results. In order to be the best property for our future residents, the Proxy333 team is always out in the community. We recently participated in the Phoenix Pride Parade and anticipate seeing more familiar faces the closer we get to opening our doors."
The underlying property upon which Proxy is developed was a one-story, multi-tenant office building constructed in the '60s. Many of the tenants were arts-oriented businesses, including several traditional artist studios and a florist. These businesses embellished the building with graffiti and murals, a contribution to what would become the Phoenix Art District that the developers plan to integrate into the lot's new life.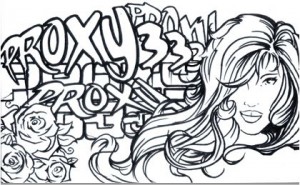 Proxy333's developers have commissioned five site-specific mural pieces by Phoenix artist of 32 years, Noe "Such" Baez also known as Such Styles. Baez's work will appear in the leasing lobby, fitness center, recreational deck area and public restrooms, including a portrait of the former florist tenant.
Other unique features include electric car charging stations, a grassy dog run and washing station, a street café, a rooftop observation deck and lounge area, three-floor pool deck with a bocce ball court, outdoor fire pits and concrete Ping-Pong tables, outdoor kitchen with a lounge area and outdoor TVs.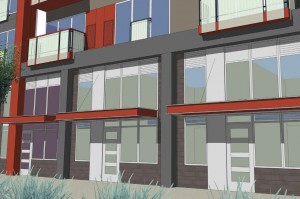 The unit mix includes studios; one-bedroom alcoves; one-bedroom alcoves with a den; one-bedroom, two-bathrooms with a den; two-bedroom, two-bathroom units; one-bedroom, two-bathroom; two-story live-work units with frontage windows facing 4th and McKinley streets. Proxy333 has two-story podium-style parking.
UEB is the general contractor, Studio Meng Strazzara is the architect of record, Creative License International is the interior designer and Studio Sprawl is the landscape architect.
Images courtesy of Pinnacle Living.
---