If you want room service, go to a hotel. Or, if you're planning on moving in to the soon-to-be completed CityScape Residences in downtown Phoenix, you can just go home.
Sitting atop the 10-story Hotel Palomar, residents at the apartment complex can indulge in all of the luxuries of a hotel, from room service to valet parking, from the comforts of their own high-rise home.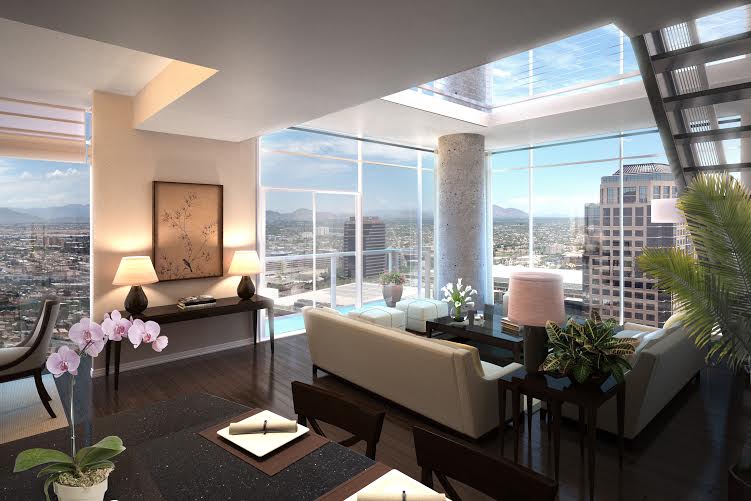 And if that weren't enough to attract the perk-loving person in all of us, expansive views of the city in every direction will impress Phoenicians who have been dreaming of a more urban lifestyle in their own backyard. Preleasing tours for the apartments, which will include studio, 1, 2 and 3 bedroom floor plans, are taking place now, with the first residents expected to move in on February 1.
Located on Central Avenue and Jefferson Street, the apartments are the final piece of the total CityScape project, which began construction in 2005 by RED Development in partnership with the City of Phoenix.
"Through our in-depth understanding of the Phoenix market, RED Development, the City of Phoenix, and our financial partners, saw the former two surface lots and an uninviting, seldom-used public park as an opportunity to contribute to and reenergize the core of downtown Phoenix with a mixed use project that is now today's CityScape," said Stephanie Whitlow, director of marketing and communications for RED Development, LLC.
"Once the apartments are completed this year, we will wrap up all project phases of CityScape."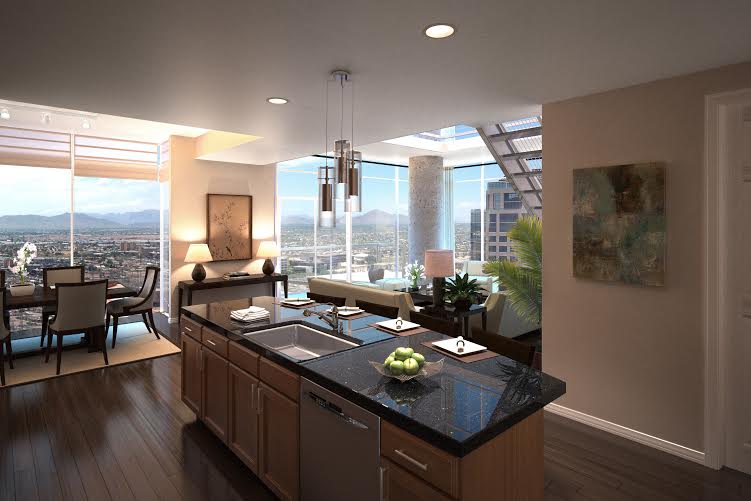 The apartment and hotel combination will provide luxury options to in-state and out-of-state visitors, Whitlow said, and increase residential possibilities in the city's quickly growing core.
"RED Development and our partners, Alliance Residential, felt demand was strong in downtown Phoenix for new luxury, high-rise options, and at CityScape the residential component rounds out the project as not only a work-and-play destination, but one that offers city living with upscale amenities and incredible views," she said.
Although certain floors will be completed by the initial February 1 move-in date, the remainder of the apartments will not be fully completed until April this year.
Laura Rubeck, senior business manager for Alliance Residential Company, which is handling the leasing aspect of the CityScape Residences, said the apartments would provide an "everything at your fingertips" living experience.
"The thing that really make this project unique is the ability to take advantage of hotel amenities while being part of an apartment complex," she said.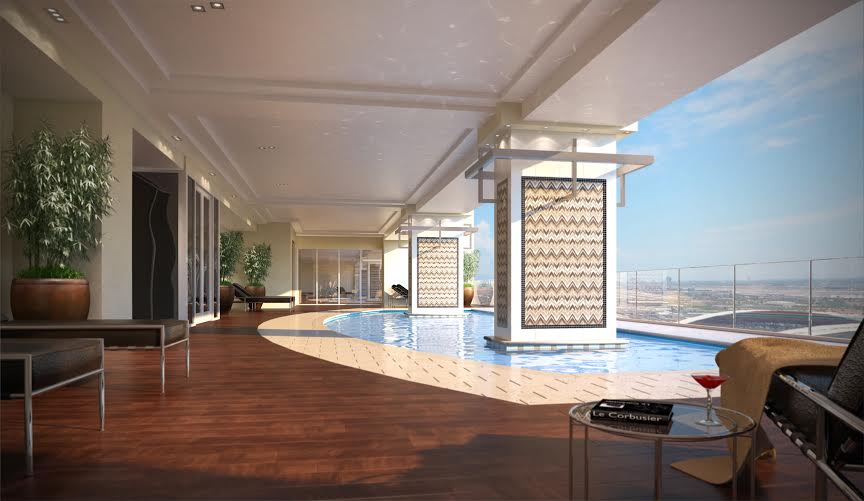 "We have our own individual amenities, including a 24-hour pool and a fitness center, but we also partner with the hotel and with CityScape businesses to offer our residents even more," she said, including a partnership with Gold's Gym and nearby dry cleaning services for residents.
The units will begin leasing at $1,027 for a studio, with 1 and 2 bedrooms starting at $1,200 and $2,100, respectively.
The underground CityScape parking structure will serve as the resident parking garage, even as downtown dwellers inch ever closer to an entirely walkable city.
Images courtesy of RED Development
---