DPJ's Counter Culture series looks at downtown Phoenix dining from the best seat in the house: the bar stool, where unique connections and sensory experiences converge like no other place in the room.
If Hugh Hefner and Tony Bennett were invited to hang out at The Duce, the restaurant and bar located at 525 S. Central Avenue, they might feel a certain sense of déjà vu.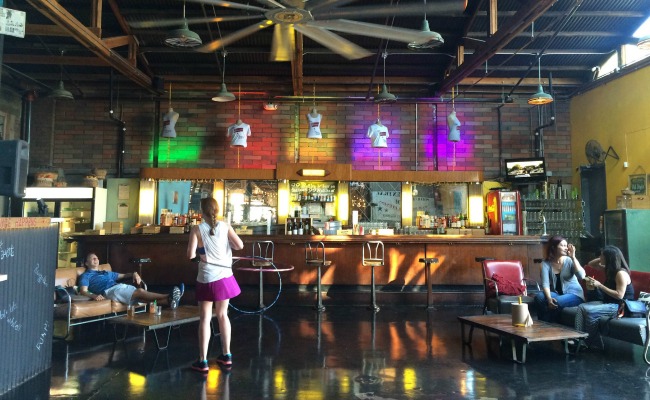 After stepping through the huge entrance of the 1928 warehouse made of brick and rusty corrugated steel, there's a chance they might actually think they've time-traveled back to 1950's Chicago. And it's not just because of the old-school brews and 50s style cocktails made with freshly squeezed juice.
Along the northern wall of The Duce, a huge antique bar sits against a brick wall. With curved counter corners and a decidedly Art Deco design, it's as if the bar was made for the space – fitting snugly along the 40-foot wall. Its dark wood finish is covered in hundreds of dents from half a decade of use.
Originally designed and custom built for The Black Orchid nightclub, which flourished in Chicago back in the 1950s, the bar is as much a statement piece now as it would have been back then. Spanning roughly 30 feet, the bar's back is framed by six vertical lights that glow between mirrored panels.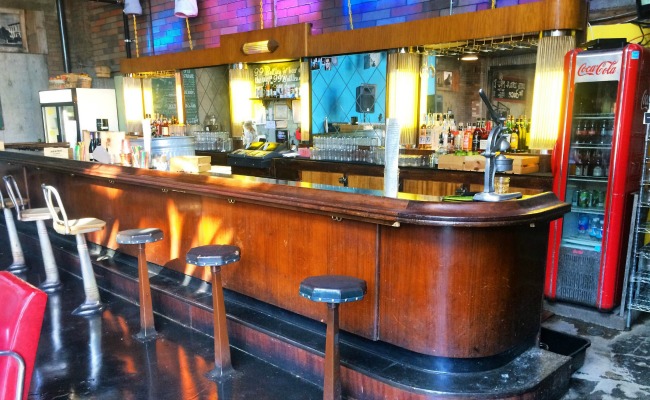 In his autobiography "The Good Life," Bennett recalls the nightclub as his "favorite Chicago hangout" – complete with talented musicians, comics and a "chorus line of scantily clad girls."
"It was the hippest place in town," Bennet recalls in his 1998 book.
Fast-forward 50 years and the bar is still the hippest place, only, the town has changed.
A restaurant, bar, boxing gym, event space and retail store, The Duce is packed with colorful vintage furniture, fixtures and lighting — wooden benches, antique bleachers, and even a marble top soda fountain.
Sitting at the bar on a Saturday night is a rich sensory experience. As the motions of the bartenders draw you in closer to take a seat, you can smell fresh fruit and berries as they're muddled for cocktails. And as the bartender manages to greet you with a smile between squeezing citrus and pouring drinks, you instantly know that no matter what drink you order, it's going to be good.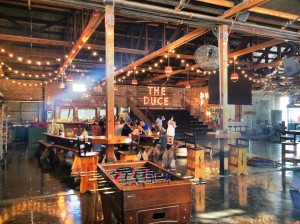 Beyond the bar, there's never a shortage of things to do at The Duce — there's swing dancing, live music, hula hoops, corn hole and ping pong. Delicious comfort food is served from a small 1960s Streamline travel trailer in the courtyard, and drinks are served from antique cocktail bars.
As for Hefner and Bennett, there's no doubt they spent many nights at sitting at The Black Orchid's bar back in the day. In Chicago, it was the place to be for the likes of Louis Armstrong, Benny Goodman, the Rat Pack, and more.
But this kind of history is far beyond what The Duce owner, Steve Rosenstein, could have planned.
Rosenstein and his wife Andi purchased the Art Deco bar in 2007. The Black Orchid had closed down many years before, and the antique bar more or less fell into their laps.
Although they had been living in North Scottsdale for six years at the time, the couple had moved from Chicago so the felt a particular connection to the bar when it was offered to them for sale.
"I looked at the picture and said, 'We'll take it!'" Rosenstein recalled. Mind you, this was before they had even purchased the warehouse where it now resides. But they bought the property shortly after, then spent a year trying to figure out how to get the bar 1,700 miles from Chicago to Phoenix.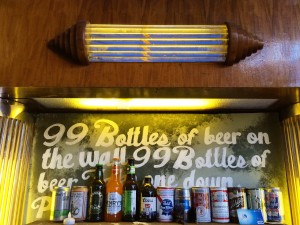 Both purchases somehow seemed to be destiny.
"We weren't looking for this, and this place wasn't looking for us, but somehow we found each other," Rosenstein said.
Six years after opening The Duce is still going strong. It has made its mark in downtown Phoenix's Warehouse District. Slowly, more and more businesses are coming to the now "cool" neighborhood.
But in Rosenstein's eyes, it always has been cool.
"People don't realize how cool downtown used to be," He said. "We really try to pay tribute not just to what this bar was in Chicago, but what this part of town was back in the day," Rosenstein said.
Experience The Duce
525 S. Central Avenue
Phoenix, AZ 85004
Photos by Lauren Potter.
---