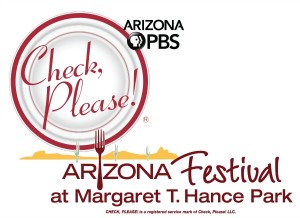 Festivals abound in downtown Phoenix this time of year and one of the most delicious is the Check, Please! Arizona Festival, taking place on Sunday, March 20 from 11 a.m. – 3 p.m. at Margaret T. Hance Park. This is the fourth year for this food fest, which is based on the popular Arizona PBS TV show, Check, Please! Arizona. The event benefits our local public television station, Arizona PBS.
Mark your calendar and get ready meet celebrity chefs and sample eats and drinks from some of the best restaurants in the Valley. Pro tip: last year's event sold out, so be sure to purchase your tickets early!
Here's a preview of what to expect:
LOCAL RESTAURANTS
More than 20 local restaurants will be on hand sampling their finest fare. Here are just a few of the participants: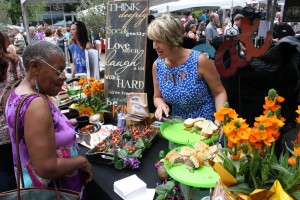 Nook Kitchen Downtown
Hob Nobs Cafe & Spirits
The Wild Thaiger
Timo Winebar
Lon's at the Hermosa
Flavors of Louisiana
Cowboy Ciao
Four Peaks Brewing Company
 CELEBRITY CHEFS
The Check, Please! Arizona Festival is known for its local celebrity chef appearances and demonstrations.
This year, public television celebrity, chef, restauranteur and best-selling cookbook author Lidia Bastianich will appear along with Southwest James Beard Award winner Chef Robert McGrath, host of Arizona PBS' popular Emmy Award-winning "Check, Please! Arizona," and other special guests.
Additionally, David Manilow, Check, Please! creator, will participate in a panel discussion with Robert McGrath and a team of Check, Please! Arizona producers for a behind the scenes look into the show. The event will also feature two cooking demonstration stages featuring special guest Barbara Pool Fenzl, PBS Personality and cookbook author, as well as showcasing show veterans and more.
DOWNTOWN SCENERY
In its fourth year, the festival is expanding to a larger location on the west end lawn of Margaret T. Hance Park. Along with the tastes and smells of fabulous food and drink, you'll enjoy the day surrounded by the park's sprawling green space, historic neighborhoods and the downtown Phoenix skyline.
IF YOU GO
General admission advance tickets are $59 from March 1 through March 19; tickets at the gate are $69. All tickets include food, wine and beer sampling as well as panel discussions, cooking demonstrations and guest lectures.
For complete event information, schedules and to purchase ticket , visit the festival's official website here.
---