DPJ's Wire series delivers news and information straight from the source without translation.
Plans for Hance Park Move Forward
On March 25, 2015, roughly one year since the debut of the new Margaret T. Hance Park master plan, Phoenix City Council voted 6 to 1 to extend the contract of the Master Plan Design Team (project Lead Weddle Gilmore Architects LLC) to Phase II – Schematic Design. This is yet another milestone for the Hance Park redesign process.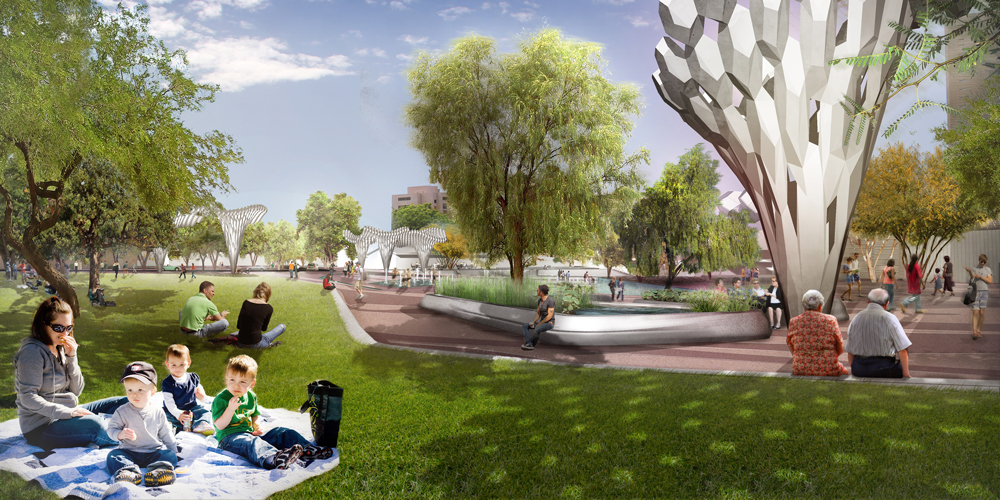 As approved by City Council in Phase II – Schematic Design, the consultant team will now develop schematic design, refinement of estimates for capital construction cost, as well as operation and maintenance costs, refinement of funding and governance strategies, and ongoing promotion and outreach efforts.
This important phase will provide specific recommendations for implementation of buildable improvements to the park. The schematic design will continue to redefine Hance Park as a signature destination park that will be a critical element in the continued rejuvenation of downtown. This work is anticipated to take approximately seven months and is funded by the Phoenix Parks and Preserve Initiative (3PI) a voter approved designated capital improvements fund.
Hance Park is a compelling site for a new urban park. Its 32 acres are located on Central Avenue over Interstate 10, a short distance from two light rail stations. Hance Park's rich cultural assets include libraries, museums, the Japanese Friendship Garden, Irish Cultural Center, the Cutler Plotkin Jewish Heritage Center, and various arts district activities, businesses and established neighborhoods. The new master plan envisions and positions the park as an integral component of the continued revitalization and transformation of Phoenix's urban core.
More information on the park design process, including the full Master Plan Program Report, is available online at http://phoenix.gov/parks/parks/hancepark.html or by calling (602) 262-4897. Hance Park Conservancy regularly posts park news updates on www.hanceparkconservancy.org.
Renderings courtesy of the Hance Park Conservancy.
---