David Krietor has served as CEO of the newly-formed Downtown Phoenix, Inc. ("DPI") since April 8, 2013. In that time, he has begun work with community stakeholders to develop the downtown we want. "Your Downtown" shares his thoughts and DPI's progress with the downtown community and beyond. Read the other chats here.
A few weeks ago I visited with long-time Garfield Organization board members, Dana Johnson and Kim Moody, and had the chance to see the transformation of 11th Street in their neighborhood. Residents and community members can be extremely proud of the input they provided and the completed enhancements that now span 11th St. between Washington and Moreland streets, including: wider sidewalks with new accessible ramps to meet ADA specifications; 114 pedestrian-level street lights; 18 LED street light fixtures; shade trees to reduce radiant heat along the entire corridor; upgraded bus shelters with new seating, trash receptacles, and bicycle racks; specialty pavement with 10 historical elements related to the neighborhood around six bus stops and four seating areas; upgraded landscaping and irrigation system throughout the corridor; and new bike paths on 11th Street, running the entire length of the project. The endeavor was funded by a $2.4 million Federal Transit Administration Discretionary Grant with a local match of $600,000.
STRAIGHT FROM THE SOURCE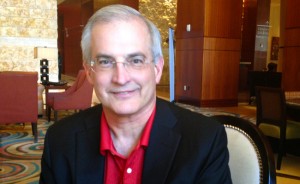 Downtown Phoenix Journal has introduced a "Conversation" series penned by Jill Bernstein and featuring Downtown Phoenix, Inc. board of directors and other downtown stakeholders. These interviews are an excellent way to introduce downtown Phoenix leadership to the community, and to learn their respective views on Phoenix. Here's the interview line-up to date: Jeri Jones (United HealthGroup), Kimber Lanning (Local First Arizona), Mo Stein (HKS, Inc.), Ed Zuercher (City of Phoenix), Ed Zito (Alliance Bank) and Don Brandt (APS, pictured right). More to come, here on DPJ.
A CULTURALLY RICH MARCH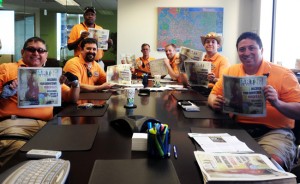 Let's just say that early March was one for the record books for downtown Phoenix…with an amazing "VIVA PHX" music festival, First Fridays artwalk, and one-of-the-best-ever "Art Detours." All on one weekend.
The Walter Studios Creative Art Center at 7th Avenue and Roosevelt held their grand opening and threw pies for a good cause. The Arizona Artist Collective which aims to connect businesses with artists has forged a new partnership.
On Saturday, March 15, the film "Cesar Chavez" was honored with an Audience Award in the Narrative Spotlight category at the 2014 South by Southwest (SXSW) festival, the annual music, film, and interactive conference in Austin, Texas. "Chavez" had its world premiere at Phoenix's Orpheum Theatre on March 13. An estimated 1,400 people attended.
WELCOME SUPER BOWL XLIX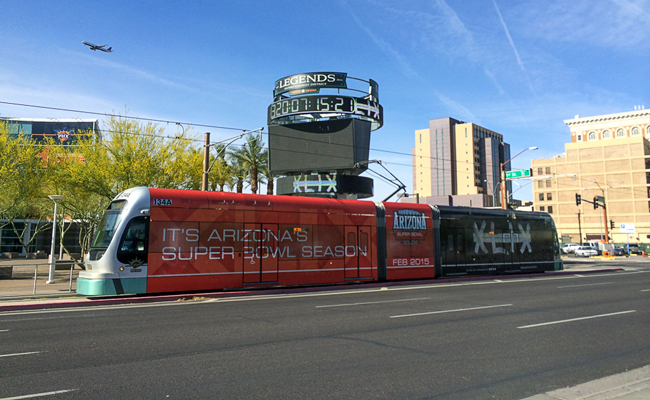 On Tuesday, March 18, the Arizona Super Bowl Host Committee announced several major initiatives that will take over 12 city blocks in downtown Phoenix and together will serve as the hub of fan, sponsor, media, and NFL activities for Super Bowl XLIX. This is a new addition to Arizona's line-up of Super Bowl activities since the state last hosted the Super Bowl in 2008, and one million visitors are expected to participate.
COMING DOWNTOWN IS A SMART MOVE
In Mayor Greg Stanton's State of the City Address, he included several references to downtown Phoenix, most notably two revolving around education: (1) a renewed commitment to supporting elementary and secondary school partnerships in and around central Phoenix and (b) news that the nationally ranked University of Arizona Eller College of Management will move to the Phoenix Biomedical Campus at 7th Street & Van Buren. To read the mayor's full remarks, click here.
#DTPHX
Help us tell the downtown Phoenix story with your Instagram account. "Project: Downtown Phoenix Stories" captures the hidden gems and beauty of Phoenix that you discover. Each weekend a new hashtag will be released on the Downtown Phoenix Instagram account. Take a picture in the theme, use the designated hashtag and share with the world. Selected photos will be featured each Monday on DowntownPhoenix.com.
CHANGING FACES
Several friends and associates we have worked with closely at City Hall are moving on in their professional careers: John Chan in Community & Economic Development (CED) is returning to the Phoenix Convention Center (PCC). Hank Marshall is taking John's position in CED. Debbie Cotton is moving from the PCC to Information Technology. Brendan Mahoney, Senior Policy Advisor to the Mayor, is heading back to the private sector and his law practice. Wylie Bearup, Street Transportation Director, has announced his retirement. And new to City Hall is Gail Brown, Administrator in the Office of Arts & Culture.
---