DPJ's Wire series delivers news and information straight from the source without translation.
"Songs from St. Somewhere" Pre-Concert Party at Cityscape Phoenix
Thursday, October 24 – starting at Noon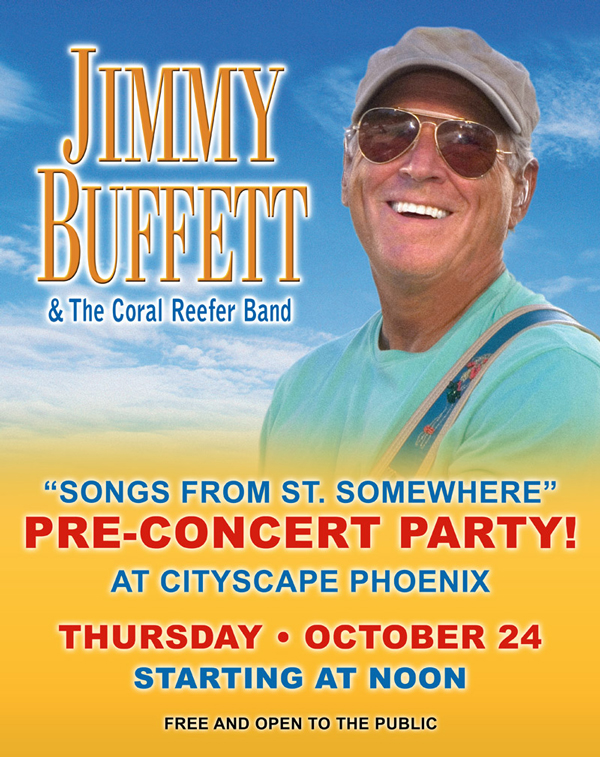 Calling all local Parrotheads: We [CityScape] are closing Central Avenue and turning it into the Ultimate Margarita Beach Party starting at Noon and leading up to the 8pm Jimmy Buffett and the Coral Reefer Band concert at US Airways Center.
The Pre Concert Party is Free and Open to the Public. Guests can dine at any of the fine Cityscape Phoenix restaurants plus there will be food vendors and drink tents in the street including beverages from Landshark Lager and Margaritaville Tequila. We are bringing in loads of  sand to complete the experience. Take the day off work and join us for food, drinks, a local band, contests, sand volleyball and much more!  Proceeds to benefit the 100 Club of Arizona.
"US Airways Center is extremely excited to welcome Jimmy Buffett for his first downtown Phoenix appearance. We welcome all Parrot Heads as we turn downtown Phoenix into the biggest beach party of the year" said Ralph Marchetta, SVP & GM of US Airways Center.
Jimmy recently released a new record, titled Songs From St. Somewhere, on Mailboat Records. The album, with 15 new songs plus a bonus track, was recorded this spring in various locales including Key West, Nashville, Miami, St. Barts and London. "Too Drunk To Karaoke," the first single, is a duet with Toby Keith and the video was shot in Nashville. Jimmy has been performing this song, as well as "I Want To Go Back To Cartagena," "Somethin' 'Bout A Boat" and "Oldest Surfer On The Beach" on the current tour.
Tickets for Jimmy Buffett & The Coral Reefer Band on October 24th at US Airways Center  are on sale now at ticketmaster and the box office.
---