DPJ's Wire series delivers news and information straight from the source without translation.
Local First Arizona Celebrates Locally Owned Businesses During National Independents Week
In recognition of National Independents Week, Local First Arizona will honor locally owned and independent businesses across the state from Sunday, June 30, through Sunday, July 7. The nationwide Independents Week campaign, coordinated by the American Independent Business Alliance and known as "Indie Week," takes place during the week of Independence Day with the purpose of enlightening consumers to the importance of supporting local businesses.
Final plans for the 2013 Independents Week campaign organized by Local First Arizona have been announced and will include the following:
Pledge and win! Arizonans are encouraged to "Take the Pledge" to shop local during Indie Week. Anyone can take the pledge by visiting www.LocalFirstAZ.com/Independents-Week. Those who pledge to shop local during Indie Week will automatically be entered into a contest to win a fantastic staycation! The staycation package includes a one night stay at the Noftsger Hill Inn Bed and Breakfast in Globe and a meal at A Step Back in Time Coffee & Deli in nearby Safford.
Save! The popular Golden Coupon is the ticket to saving 20% off purchases from local Arizona businesses. A list of participating businesses can be found by clicking here (businesses will be continually added through the month of June). Shoppers and diners can simply print out the Golden Coupon from the LFA website or pull it up on their smartphone and use it at as many participating locations as they please (some restrictions may apply). Some participating businesses include Pillsbury Wine Company, Frances Vintage, Urban Cookies, Sole Sports Running Zone, Desert Song Yoga, Noble Beast Natural Market for Pets, House of Tricks, Hacienda del Sol Guest Ranch, The Mini Time Machine Museum of Miniatures, and many more!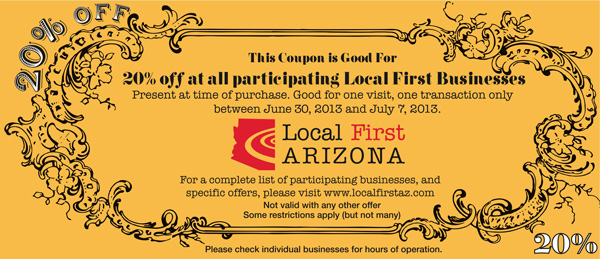 Have fun! Several events will take place across the state during Independents Week to celebrate our local businesses with community members. Events include a pub crawl on Mill Avenue in Tempe; a film screening at The Loft in Tucson, a First Friday Party in Phoenix, and a beer dinner in Tucson presented by Food Conspiracy Co-op and Dragoon Brewing.
"Independents Week is especially important in Arizona during the slow summer months for many of our local business owners," says Kimber Lanning, Director of Local First Arizona. "When we spend our dollars at local businesses, up to four times more money stays and circulates in the local economy, supporting local jobs, services, and communities. Our hope is that consumers will learn about the value of supporting local businesses during Indie Week, and then continue to support our independent businesses far beyond our weeklong celebration."
---