DPJ's Wire series delivers news and information straight from the source without translation.
In recognition of National Independents Week, Local First Arizona will honor locally owned and independent businesses across the state from Saturday, July 1, through Sunday, July 9. The nation-wide Independents Week campaign, coordinated by the American Independent Business Alliance and also known as "Indie Week," takes place during the week leading up to Independence Day with the purpose of enlightening consumers to the importance of supporting local businesses.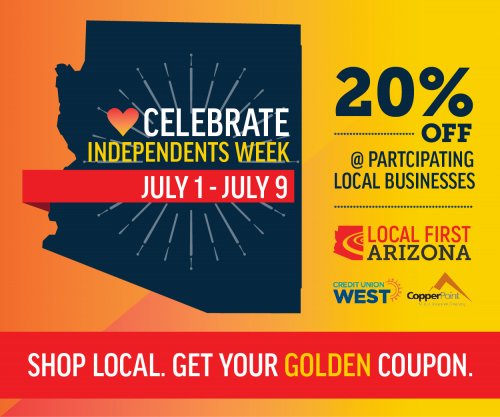 "Independence Day is a time for us to reflect on what makes our state and country great," says Kimber Lanning, Director of Local First Arizona. "Arizona's independent business community is the backbone of our local economy and the driving force behind what makes us proud to call Arizona home. Up to four times more money stays in the local economy when consumers choose an independent business over a national chain. Independents Week is our way of drawing attention to the important role independent businesses play in our daily lives."
THE GOLDEN COUPON RETURNS
The popular Golden Coupon, printed this year by Think! Graphic and Printing Solutions, is the ticket to saving 20% off purchases from hundreds of locally owned establishments including auto repairs, home furnishing stores, boutiques, florists, restaurants, yoga studios, nurseries, and more. Last year, over 500 local businesses signed up to accept the Golden Coupon during Independents Week. The full list of participating businesses will be posted on the Local First Arizona website.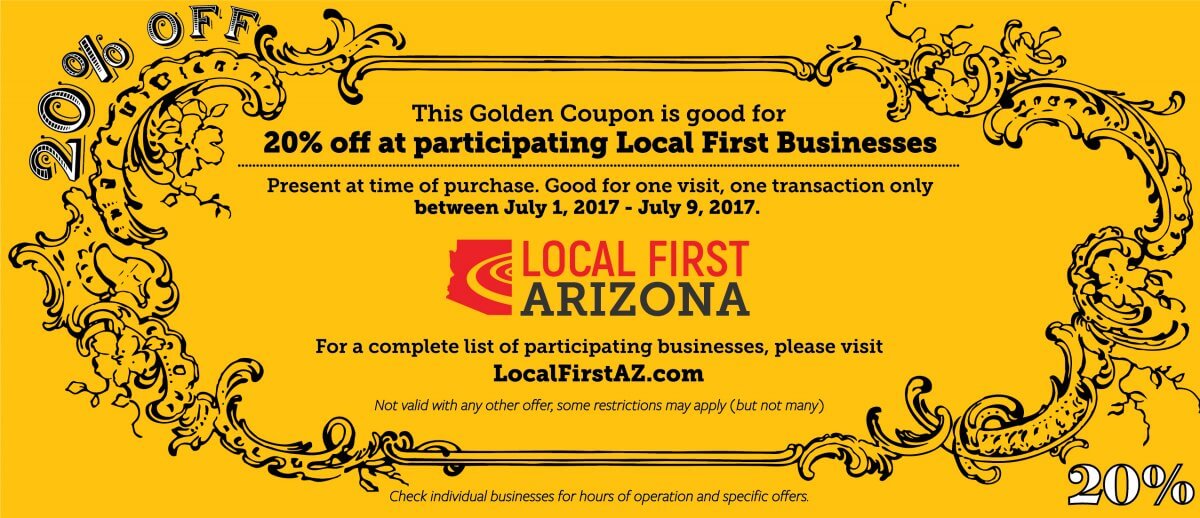 Individuals can simply print out the Golden Coupon from the LFA website or download the coupon on their smartphone and use it at as many participating locations as they please throughout Independents Week. The Golden Coupons present the perfect opportunity for consumers to visit participating stores that they have wanted to try and to find new spots they may not have known about, all while spending locally and saving money. Golden Coupon users will need to ask participating businesses about specific restrictions for using the coupon.
This year's Independents Week is sponsored by CopperPoint Insurance Companies and Credit Union West.
Images courtesy of Local First Arizona.
---