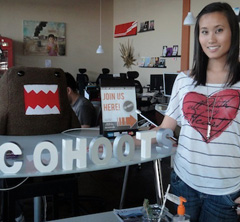 On a Tuesday afternoon, a gathering of people are seated around a long table, eating lunch and watching the thought-provoking presentations known as TED Talks projected on a large screen at one end of the room.
These individuals are largely owners or employees of a variety of small businesses, but they are all co-workers at CO+HOOTS, the Downtown Phoenix office space that just celebrated its second year of supporting what founder Jenny Poon (pictured right) calls a "creative class" of entrepreneurs.
Located in the historic Garfield district building that housed one of Phoenix's first grocery stores, CO+HOOTS provides collaborative office space and development resources for a wide range of small businesses and independent professionals.
Many of the businesses housed in the space focus on creative services and range from graphic design to software and web development to public relations.
As the owner of her own small business, a design and branding company called eeko studio, Poon understood the challenges unique to entrepreneurs. She envisioned a centrally located space that would provide a home base for independent businesses owners to work collaboratively.
She also knew that the conditions were right to make it happen in Phoenix, noting that, "really good work comes in when you get three things in place: when you have the right timing, when you have the right people, and when everyone is compensated properly."
According to Poon, the concept for CO+HOOTS is that you're "sharing space, you're sharing concepts, you're sharing ideas, you're the whole business, how you grow your business. You're sharing that with everybody and helping everybody kind of grow together."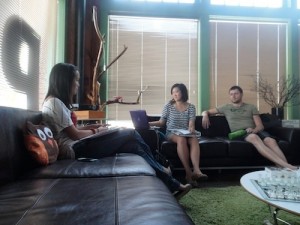 At their two-year mark, this collaborative model has proven effective as CO+HOOTS now houses 15 resident companies and has over 200 members. On an average day, approximately 30 people will use the 3500 square foot space to work, hold meetings, and attend events and workshops.
Poon attributes their success to the people who make up Phoenix's creative community, which helped CO+HOOTS become sustainable in its first two years. "We've been very fortunate to create it in downtown Phoenix where we have a very, very strong grassroots community."
Businesses can sign up for a monthly membership or pay a small drop-in fee to work for the day. By working out of CO+HOOTS, they are tapped into networking opportunities and can take advantage of events like Mid-week Mind Tweak, which includes presentations from community business professionals and Night Owls, where people can devote time to side projects from 8 p.m. to 12 a.m. every other Thursday. Many of these events are also open to the public.
A variety of advisors are also available to CO+HOOTS co-workers to offer guidance in areas like marketing, management, and legal matters.
As for their future, in the same way that businesses develop and graduate from the co-working space, CO+HOOTS is about to take the next step in its own growth process.
Soon they will be moving to a new, larger location at 10th St. and Washington to be part of a broader concept of creating an entrepreneurial corridor. Not only will this allow them to increase their capacity, but it is also a move to link up with other entrepreneurial incubators in the valley who are working to put Phoenix on the map as a place where these businesses can flourish.
As an organization dedicated to community development, Poon says, "the goal of CO+HOOTS is to be around as long as the community needs it to be." Given their success thus far, they are likely to have a long future cultivating Phoenix's entrepreneurial spirit.
Learn more about becoming a member, their weekly events and the companies "in CO+HOOTS."
---