Some news items don't need translation. That's why DPJ launched the From the Wire series, so we could serve the destinations here by posting information and announcements – in their own words.
Arizona Science Center Presents Groundbreaking Exhibit: Van Gogh Alive, an unforgettable multi-sensory exhibition, in its North American debut
Note: Yoga with Van Gogh begins Thursday, March 29.
Arizonans have an exciting new way to experience art with Arizona Science Center's newest exhibit, Van Gogh Alive. An exhibit brought to life by GRANDE EXHIBITIONS in Australia, Van Gogh Alive is making its North American debut at Arizona Science Center and is presented locally by JPMorgan Chase.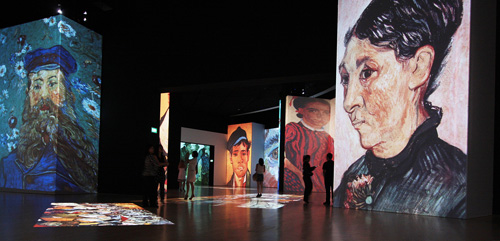 Synchronized to music, the high-tech exhibit features more than 3,000 Van Gogh images projected at enormous scale to create a thrilling display that fills giant screens, walls, columns, ceilings and even the floor – immersing guests entirely in the vibrant colors and vivid details that constitute Van Gogh's unique style.
The enormous, crystal-clear images illuminate a vast array of screens and surfaces specially tailored to the exhibition space at Arizona Science Center, drawing attention to key features and allowing the study of colour and technique. Photographs and video are displayed side by side with Van Gogh's works to demonstrate his sources of inspiration and provide the viewer with important background information. 

The multi-sensory experience, with a vibrant symphony of light, color and sound, stimulates brain function and gives guests the chance to see minute details and effects never before seen. Van Gogh's masterpieces come to life as guests embrace the sensation of walking right into his paintings.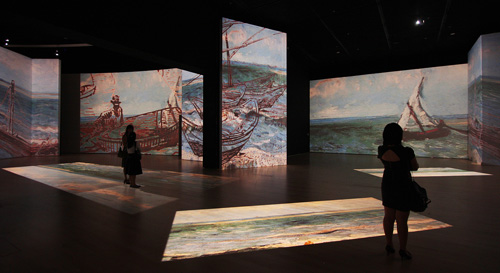 Van Gogh Alive features a powerful classical score to propel visitors. The moving soundtrack reflects the emotional aspects of Van Gogh's story and offers the visitor a richer experience of both his art and state of mind throughout his amazing career. Featured composers include Handel, Schubert, and Liszt, among others. (photos courtesy of Arizona Science Center)
NOTE: Arizona Science Center is teaming up with SuTRA Midtown Yoga to offer a unique yoga experience.

Yoga with Van Gogh begins Thursday, March 29. Be immersed in light, sound, movement and color. Connect mind, body and spirit through the movement and meditation of Vinyasa style yoga all while being immersed in masterpieces.
If you go
Van Gogh Alive
When:  Exhibition runs through June 15, 2012
Where:  Arizona Science Center, 600 East Washington Street, Downtown Phoenix (Between 7th Street and 5th Street)
Cost:  $25 for adults, $22 for seniors and $20 for children. Members: $8 for adults, children and seniors. Group pricing (15 or more attendees): $14 for Adults and $9 for children 2. For more ticket information please call (602) 716-2028.
Info:  For more information visit www.azscience.org or call (602) 716-2007.
Yoga with Van Gogh
When: Beginning March 29, 6 – 8 pm

Cost:  Drop in: $25, SuTRA and Arizona Science Center members: $17, Pre-registration: $20
Contact: To register, call reservations 602-716-2028
---