Some news items don't need translation. That's why DPJ launched the From the Wire series, so we could serve the destinations here by posting information and announcements – in their own words.
Program will pay up to $3000 of home energy efficiency improvement costs
Energize Phoenix is hosting "It's Easy With Energize Phoenix", a community energy efficiency fair and contractor exhibit at the Burton Barr Central Library from 10 a.m. to 2 p.m. Saturday, March 24, 2012.
The event is open to the public and will offer the opportunity for eligible homeowners to sign up for a free home energy check-up and receive up to $3,000 in rebates to pay for their home energy efficiency improvement costs. In many cases, this will pay for 100 percent of the energy efficiency project costs. Eligible homeowners must sign up with an Energize Phoenix approved contractor on the day of the event to qualify for the offer. Typical project costs to date range from $600 to $5,000 and include:
*The offer does not include air conditioners or solar water heaters. Standard rebates apply.
**Energize Phoenix rebates cannot exceed total project costs.
Energize Phoenix approved contractors also will be available to help homeowners identify energy saving opportunities and assist them with applying for incentives from Energize Phoenix and APS. In addition, attendees who ride the light rail and show ticket fare will receive a free CFL bulb (limited supply available).
Energize Phoenix offers cash incentives and financing to help pay for energy saving projects for homes and businesses located within the Energize Phoenix Corridor, a 10-mile stretch along the light rail line. To access Energize Phoenix program incentives, you must use an Energize Phoenix approved contractor.
To find out if you qualify, enter your address on the website energizephx.com or call (602) 495-5275 to learn more.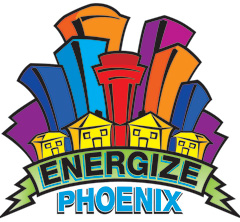 What:  "It's Easy With Energize Phoenix"
When:  10 a.m. to 2 p.m. Saturday, March 24, 2012
Where:  Burton Barr Central Library (north parking lot), 1221 N. Central Ave.  (Southeast corner of Central Avenue and Willetta Street)
Energize Phoenix
The city of Phoenix was awarded a $25 million federal grant from the U.S. Department of Energy Better Buildings Neighborhood Program and the American Recovery and Reinvestment Act (ARRA) to launch the Energize Phoenix program in partnership with Arizona State University and with support from Arizona Public Service. The Energize Phoenix program saves energy, creates jobs and will transform a diverse array of neighborhoods along the METRO light rail.
---