With the annual Art Detour returning this weekend you may like a little ensemble inspiration. While a simple T-shirt and shorts is an easy go-to, these looks can spruce up your typical weekend style.
The weather is appearing to stay in the high 70s, with a slight chance of rain on Sunday. For this free, self-guided tour throughout the art galleries I recommend you try to dress comfortable yet sleek. The Downtown Phoenix art scene is fairly flex, you will surely see people wearing an abundance of styles, but here are a few key looks that are sure to impress and distract a few wandering eyes away from the art and onto your fabulous style!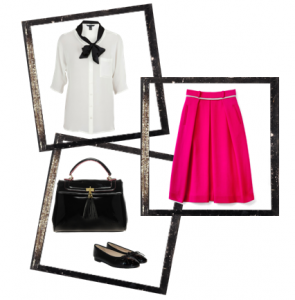 This first outfit is super flirty and pleasing for any body type. A clean, white blouse is always a fresh look especially when paired with a bold skirt. I chose a vivid pink, high-waisted skirt with thick pleats to add some volume and energy. This look can be worn with almost any type of shoe, but since the tour is partially on foot I definitely recommend flats to make sure your feet are super comfy. Don't forget a classic bag that is easy to carry, and make sure to keep it light so you are good to go all weekend long.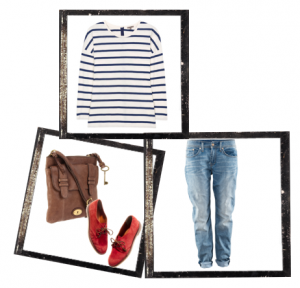 A second possibility for females attending the event is super laid-back and casual. This ensemble is perfect for any weather and has a simple charm about it. The horizontally striped shirt has 3/4 sleeves and can be worn alone or layered with a sophisticated blazer. The boyfriend jeans are a relaxed fit and float right into spring with a simple cuffed hem. An over the shoulder bag is always a plus for those who like to keep their hands free. The burnt orange shoes are dramatic yet demure touch for this luxe outfit.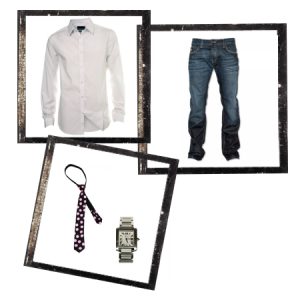 The third look is for all the fashionistos out there. There is no reason that all the eyes should be on the art or the females attending the event, time for the men out there to make a pop! You can't go wrong with a nice pair of fitted jeans paired with a white collared shirt. Add some flare to the look with a funky tie, maybe some playful polka dots – or even a bow tie! Of course to complete the look a sleek watch will keep the look classic and suave.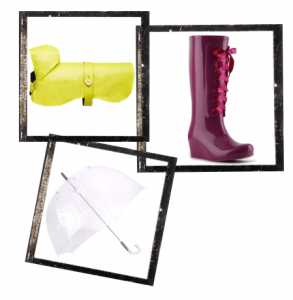 Just in case the clouds decide to pour down on our urban desert, above are a few key essentials for any outdoor excursion. For those of you who are animal lovers and plan to have your furry friend along for the festival, an adorable raincoat for the little one is a great way for them to keep dry. Rain boots were a huge hit this winter season, so on this rainy day it is the perfect time to bring them out for a final spin before tucking them away for the summer months. And of course, a bubble umbrella matches any outfit and is super stylish to carry anywhere.
No matter which ensemble fits your personality, better make sure to remember lots of water, sunscreen to protect yourself from the squelching Arizona sunshine and a camera to capture the fun adventure that will unfold during this year's Art Detour.
For items similar to those seen here, check out the shops and local boutiques' March sales and deals.
---