Photos Jason and Anna Photography.
Look out Pee Wee Herman, bow ties are no longer an instant sign of nerd-dom.
The past few years have seen an increase in sales of bow ties to 20-something year old men who have incorporated the tie's classic, old-fashioned sensibilities into their own modern style. The question is, "are bow ties back?" To which the only response can be, "were they ever gone?"
Bow ties were popular in the early and mid 20th century, worn by notables such as Franklin D. Roosevelt, Winston Churchill, Humphrey Bogart, Frank Sinatra, and comic book character Archie, all influential men who stood apart from their contemporaries; but by the 1970s, bow ties had become associated with bookish Poindexters and stuffy intellectuals. Today, the bow tie renaissance is in full swing, a backlash perhaps against men's clothing being too casual for too long. Young men of a new generation are voting with their dollars for bow ties, choosing to dress with purpose and individual style.
Popular musicians and actors have been photographed donning bow ties with jeans and sneakers, and trendy, youth-oriented stores like Urban Outfitters carry bow ties, as do designers like Tommy Hilfiger and Ralph Lauren.
As Dr. Who often reminds us, "bow ties are cool." They are an accessory, a finishing touch to an outfit, and a bold statement. Men who wear bow ties are passionate about them because a bow tie says more than any other piece of clothing; it implies the man wearing it is daring and confident, a man of independent thought, separate from the conformity of the regular necktie pack. People recognize and remember the man in a stylish bow tie.
Based on sales, young men in Washington D.C., New York and Boston have embraced bow ties; sales have also been brisk in college towns. In the next few months, Downtown Phoenix advocate and Assistant Director at Phoenix Urban Research Lab, Aaron Kimberlin is bringing the bow tie movement to Phoenix with Dapper+Dash, a small business that reconstructs bow ties from vintage materials.
A Modern Twist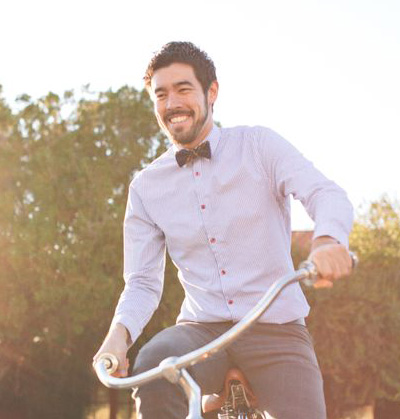 The idea for Dapper+Dash came to Kimberlin after coming into possession of his grandfather's old ties.
"I was given a multitude of mid-1960's to 1970's ties that were just too wide for a modern day tie.  My notion was that everything, including fashion, is cyclical, so I wanted to create a product that celebrated a vintage men's accessory by adaptively reusing clothing goods and vintage materials."
With the idea to construct and design a product from local materials with local talent, Dapper + Dash was born. They begin with the essentials by searching for the highest quality materials, often found buried and forgotten in closets. Each piece of material is considered before being repurposed, then cut into one of three bow tie patterns named after three distinct bow tie wearers: the Huckleberry, Churchill, and Dagwood.
Each pattern is then stitched by hand in Downtown Phoenix. The packaging is also produced locally: each bow tie will come in a handcrafted cylindrical tube, stamped with the Dapper+Dash logo, and sold at local vintage clothing stores and on the company website.
Some large department stores sell bow ties for prices reaching as high as $100. That's too much says Kimberlin, who is aiming to keep the cost per bow tie below $50.
Bow Ties + Bikes… Bow Ties + Beer… Bow Ties + Baking…
There is no reason to wear a bow tie unless you plan to tie it yourself, which is not the daunting task it may seem. Thanks to YouTube, a variety of videos can help unravel the mystery. Wearing a pre-tied bow tie is like "letting another man forge your signature" says Alan Flusser, author of Style & The Man. Like learning to tie a shoe, tying a bow tie takes some practice, but once mastered, the skill is not forgotten.
What do you do once you've acquired the skill of tying a bow tie? Besides just wearing it to work or for a night on the town, Kimberlin is planning to incorporate the bow tie into community events as well.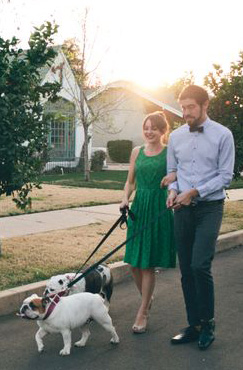 For example, one idea is a night called "bow ties and beer" where bow tie enthusiasts and their dates meet up for drinks and classy conversation. Or how about "bow ties and bikes" where you could show off that new bow tie while biking through historic Downtown Phoenix neighborhoods? Bow ties and baseball? Bow ties and baking? Why not?
"The alliteration comes with a great pairing.  Why not look stylish when you are enjoying some of your favorite activities?" Kimberlin said.
In addition to creating products that can help a man look debonair, Kimberlin is also looking to partner with local businesses and non-profit organizations to "achieve a basic rule with Dapper+Dash" of having 10% of sales be donated to non-profits.
"I am currently still working on partnerships in this collaborative," he said.
Bow ties, like Downtown, are both historic and modern, complicated yet simple, distinctive but misunderstood. Bow ties have never quite been out of fashion, underappreciated perhaps, but never gone. Those who wear them embrace both the history and the intrepid style a bow tie represents, just like devoted Downtowners embrace the history and bold opportunity of modern Phoenix.
If you go
Event: Dapper+Dash Grand Kick-off Affair
Date: Saturday, March 3
Time: 6:30 p.m. to 9 p.m.
Location: The Mercantile, 828 N. Central Ave. (Map)
More Information: Visit Facebook (official website coming soon)
---