(From the Wire includes press releases received from reliable sources that help tell the story of the many happenings in Greater Downtown Phoenix. Yep, they are ripped from our inbox.)
Arizona Centennial Welcomes Ceremonial Tour of Union Pacific Steam Locomotive Engine No. 844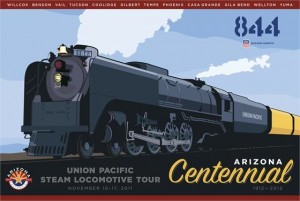 Here comes another Arizona Centennial Signature Event.  This time, Arizonans can take a celebratory trip back in time when the historic Union Pacific Steam Locomotive Engine No. 844 reprises the Southern Arizona "Sunset Limited" route, and traverses the state through Wed. Nov. 16, in recognition of Arizona's 100 Years of Statehood.
Phoenix display days are 9 a.m. to 5 p.m. Sunday, Nov. 13, and Monday, Nov 14, at the Phoenix Rail Yard, 631. S. 7th Street (south of Chase Field/Lincoln St.). This is a FREE opportunity for the public to see the locomotive. For the full tour schedule, visit az100years.org.
"We're honored to deliver another, very special Centennial Signature Event and see that mammoth engine travel through Southern Arizona, Phoenix and on to Yuma during this momentous year," said Karen Churchard, executive director, Arizona Centennial Commission & 2012 Foundation.
"The adventures of steam locomotives captivate us even today.  They literally blazed the trail westward.  And, it's exciting – for train enthusiasts and all of us — to catch a glimpse of the West as it was more than 100 years ago."
Indeed, the skilled engineers who operated No. 844 years ago are still required today, and especially so for this ceremonial Arizona Centennial tour, which traditionally fascinates history buffs and attracts new fans as well.
From Phoenix, Steam Engine No. 844 makes its way back to its original route near Casa Grande, and continues west through Gila Bend, Wellton, and finally arrives in Yuma late afternoon, Tues., Nov. 15.
The massive steam engine, a size two-and-a-half times larger than today's streamlined, computerized locomotives makes a modern-day expedition a challenging task.  A team of engineers travels with the historic train that consumes oil, water and needs adjustment every 20 to 30 miles.
To reach fans in the state's most populated area, the added two-day ceremonial stop in Phoenix means the train will depart from its traditional Southern Arizona route and move northward into what is considered a cul de sac of train tracks that requires extra maneuvering and expertise.
The engineers who guide the locomotive tour are another historical aspect of the expedition since they work for years studying the generational knowledge passed on from railroad workers before them. They apprentice to master the inevitable adjustments and sometimes on-the-spot ingenuity required during travel.  Steam Engine No. 844 will travel with a souvenir car, water tanker cars vital for the steam locomotive's operation, transport cars for the engineers and conductors, and more.
Not since 1977, has a steam locomotive made its way through Southern Arizona as part of a cross-country tour for the U.S. Bi-Centennial.  The exultant whistle stops are expected to be greeted by enthusiastic residents and visitors alike this fall, just as cooler temperatures embrace the Southwest region.
The exultant whistle stops are expected to be greeted by enthusiastic residents and visitors alike this fall, just as cooler temperatures embrace the Southwest region.
No. 844, also known as Union Pacific's "Living Legend," returned to service in 2005 after one of the most extensive steam locomotive overhauls in the United States since regular steam service ended. The work, which started in 2000, included overhauling the locomotive's running gear, pumps, piping, valves and springs, along with replacement of its firebox and extensive boiler work. The cab interior also was refurbished. No. 844 was the last steam locomotive built for Union Pacific Railroad and was delivered in 1944. A passenger locomotive, it pulled such widely known trains as the Overland Limited, Los Angeles Limited, Portland Rose and Challenger.
One of the rail cars that travels with No. 844 has a Global Positioning Satellite (GPS) transmitter integrated with a map at www.UP.com. Enter the word "Steam" in the search box on the homepage for a shortcut to the map.
For the latest information, including schedule updates on the Union Pacific Steam Locomotive Tour in celebration of Arizona's Centennial, visit www.AZ100Years.org.
About Arizona Centennial Commission
The Arizona Centennial Commission, through its nonprofit Arizona Centennial 2012 Foundation, is the statewide board charged by Governor Jan Brewer with planning and implementing Arizona's 100th anniversary of statehood.  In collaboration with the Arizona Historical Advisory Commission, more than 209 projects and events are sanctioned and planned-to-date to commemorate Arizona's Centennial. For information on the Arizona Centennial, visit www.AZ100YEARS.org.
About Union Pacific
Union Pacific Corporation owns one of America's leading transportation companies. Its principal operating company, Union Pacific Railroad, links 23 states in the western two-thirds of the country. Union Pacific serves many of the fastest-growing U.S. population centers and provides Americans with a fuel-efficient, environmentally responsible and safe mode of freight transportation. Union Pacific's diversified business mix includes Agricultural Products, Automotive, Chemicals, Energy, Industrial Products and Intermodal. The railroad emphasizes excellent customer service and offers competitive routes from all major West Coast and Gulf Coast ports to eastern gateways. Union Pacific connects with Canada's rail systems and is the only railroad serving all six major gateways to Mexico, making it North America's premier rail franchise.
---