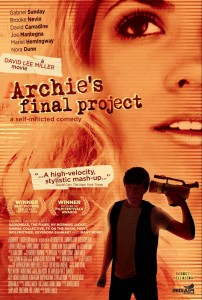 Award-winning film and teen movement, Archie's Final Project, opens in Phoenix beginning Oct. 14 at AMC Arizona Center 24. The film opened in New York and Los Angeles to sold-out shows, lines of screaming fans and celebrity attendance.   The film has been propelled by a highly successful viral social media campaign and an army of teen fans called the "Archie Army." The "Archies" have created a sensation both at the box office and online through the groundbreaking Facebook campaign called, "I Am an Archie." As a result, the film has begun a nationwide rollout at AMC Independent theaters in more than 10 cities.
The film stars Brooke Nevin, David Carradine, Joe Mantegna, Mariel Hemingway, Nora Dunn, and newcomer indie sensation Gabriel Sunday as Archie.
The cities chosen were a direct result of more than 29,000 fan "demands" through Eventful's online Demand-It campaign. The film follows 17-year old media student, Archie Williams, on his quest for personal connection after he announces that he is going to kill himself on camera.  The honest, unflinching look at this generation of media saturated, misunderstood teens has resonated with audiences of all ages and has provided healing for many teens and their families whose lives have been touched by suicide.  Distributed by Big Air Studios and Rocket Releasing.
---