For once Arizona is lucky enough to be a part of a very small tour instead of being kept off of it for political or whatever other ridiculous excuse.
Canada's Japandroids are coming this Monday to the Trunk Space.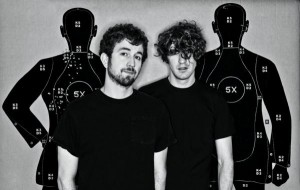 After their 2009 release Post-Nothing, they are taking a small tour and unveiling some new songs along the way from their new LP.
Their raw garage rock sound is paired with cute lyrics about relationships and Bikini Island. The lyrics are short and sweet but paired with epic two to three minute jam sessions that make them a borderline instrumental band.
Guitarist Brian King and drummer David Prowse met over a decade ago but didn't start writing and recording together until 2006.
Their band name was developed by two different bands names they chose: Japanese Scream and Pleasure Droids. They morphed both together, coming up with what they are known for now.
They hit the Vancouver scene with no recognition or help from any promoters. They decided to do everything themselves from flyers to renting a PA system for their shows.
Two years later, they started recording their debut album. After being stuck in the same place, they decided to call it quits once their last scheduled shows were done.
What they never intended was getting known and discovered by that one, eight-song album.
In a little over half a year, they released Post-Nothing, signed and were named "Best New Music" by Pitchfork.
King and Prowse's edgy, noise rock was growing in the states.
They've been touring all over the world ever since hitting up South by Southwest, CMJ Music Marathon and various other festivals.
Right before they play in Phoenix, the young curly haired duo will make a pit stop at FYF Fest alongside Death from Above 1979, Explosions in the Sky and others.
Japandroids decided to do this small tour for the fans and to think they picked the Trunk Space to play is an honor.
Tickets are $12, doors open at 7:30 p.m. Bass Drum of Death opens up the show.
---