(With Paul Martinez leaving, we figured tryouts to find his replacement were in order. As such, this week is Kyle Maki's shot at making the big leagues. Join me in welcoming him to the fold, but don't get too attached. This minor leaguer needs to show his stuff before he earns his spot on our roster.)
Just a bit short
The Diamondbacks came up short in their attempt to win a sixth consecutive series when the Washington Nationals rallied to win a thriller on Sunday afternoon. The D-backs should be a little disappointed after taking a split at home against the last-place Nationals, but overall the team is playing well and continuing to exceed expectations.
Get back
Despite leading the league in come-from-behind victories, it didn't seem like the D-backs would be able to erase a three-run deficit against a solid closer in Drew Storen. Once again the D-backs dug deep and found a way to plate three runs in the bottom of the ninth to tie the game. They were unable to complete the comeback this time around as the Nationals recaptured the lead in the 11th and held on for a 9-4 victory.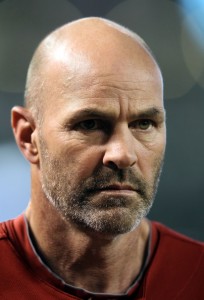 Adversarial actions
It would have been nice for the D-backs to find a way to win the game late and end the week in 1st place, but there are a lot of positives that can be taken from this game that could prove valuable as the season goes on. The D-backs comeback attempt came without the services of manager Kirk Gibson who was ejected in the eighth inning. Gibson was ejected automatically when reliever Esmerling Vasquez hit the Nationals second baseman Danny Espinosa with a pitch. Both benches had been warned earlier in the game after players from both teams had already been hit with pitches.
Let it ride
It's encouraging to see that in the face of adversity, the D-backs do not give up and are willing to step up to protect a teammate. The D-backs are already a close unit, but an added shot of camaraderie never hurts.
It will be interesting to see how the D-backs respond during their upcoming road trip starting Tuesday in Pittsburgh. If they can have another successful road trip, they'll be in a position to regain the first place spot when thy face off at home against the Giants June 14-16.
---