With the Phoenix Suns' season now over, it's time to look ahead to what this summer has in store. The Suns enter the summer full of uncertainty and question marks. Clearly, the team needs to make upgrades. The tricky part comes from determining whether or not those upgrades will require a full over haul and rebuild, or a few tweaks and an attempt to reload.
Draft time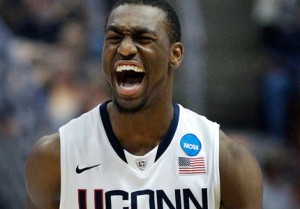 Their first attempt at either will come on June 23 when the NBA Draft arrives. As it stands right now the Suns will have the 13th pick in the draft and barring any major luck and a ping pong ball bouncing our way, that's where the team will stay. Assuming the Suns stay at 13th, there already has been some rumblings and ramblings about who they could potentially land.
Kemba Walker
One name that has come up recently on different mock drafts around the interweb is junior point guard Kemba Walker, of the University of Connecticut. Walker would be an interesting choice.
Offense
The six-foot playmaker is uber quick with or without the ball in his hands. He doesn't have a great jump shot, but he's able to get into the lane fairly well given his lack of size and has an ability to get to the line. He has pretty decent court vision and can often times find the open teammate.
Defense
On defense he can be a pesky, in-your-face defender. His speed allows him to stay in front of his man and his quick hands allow him to knock balls away and pick off passes. He's alert and aware and reads the passing lanes well.
Shortcomings
His lack of size and inconsistent shot could really hurt him in the Association. While he may be able to stay in front of opposing guards, most can easily shoot or pass over him. Bigger guards can use their size advantage to bully him in the post.
Streak not
His streaky outside shot could allow defenders to make him one dimensional and force him to hit jumpers. If he does manage to get into the paint, he has a tendency to get his shot blocked.
Speed kills
Occasionally, Walker's speed gets the best of him. He'll play out of control and force the issue. This leads to turnovers or bad shots.
Tough call
Walker is a tough guy to judge. He has the potential to be a very solid NBA point guard but he must overcome his flaws. As the Suns roster currently stands, I'm not sure Walker is the player I'd select. With Aaron Brooks already backing up Steve Nash, Walker would only give you much of what you already have, but only he'd be lacking the NBA experience. Regardless, Walker is certainly worth keeping an eye on.
---