Besides their favorite team winning a championship, there are few greater sporting events for diehard fans than All-Star games. While some sport leagues have more exciting exhibitions than others, there's no question that MLB's All-Star event is one of the best.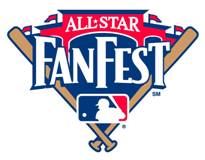 But there's so, so much more than the game. In fact, this year's all-star celebration is 5+ days of a Futures and Legends game, Home Run Derby, the game itself and nearly of week of an All-Star Fanfest featuring anything a baseball fan and their family could want to see.
To celebrate the countdown to July, the All-Star FanFest held a Ticket Hunt for 6 special ticket packages that were hidden around the Valley. Two of the locations were in downtown Phoenix, and congratulations to Chuck Trollope and David McElvogue for scoring!
Publisher Catrina Knoebl was on scene to interview the winners and special guests Justin Upton and Luis Gonzalez, so check back every day this week to see exclusive interviews with everyone.
Here is Chuck Trollope, who found the package near the Will Call booth at Chase Field.
Chuck Trollope – All-Star FanFest Ticket Hunt Winner! from Downtown Phoenix Journal on Vimeo.
Thanks to Chris Trew for the instrumental track "Oh Yes."
---