Undoubtedly, we've all eaten a lot of bad tuna sandwiches in our collective lifetimes.
Mucky, suspicious fish abused by over-preserved mayonnaise, misguided by florescent pickles and hard-boiled eggs gone gray; tuna sandwiches, or tuna salad sandwiches — however you present them — are an enigma in many American kitchens that refuse to evolve fast enough.
Before tasting Pane Bianco's version, the stars never truly aligned. I had no idea what I was missing. I had no idea what a tuna sandwich could be.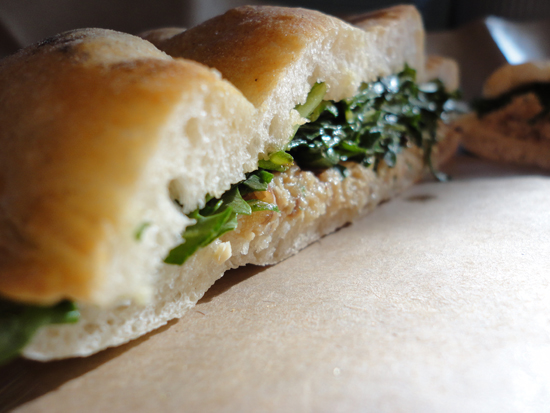 Pane Bianco is the intentionally stark and rugged side-project of James Beard Award-wining local pizza-maker Chris Bianco. Absorbing and sourcing superlative ingredients, the straightforward sandwich outlet crafts a small, rotating list of sandwiches and sides that might seem limited on paper, but not in scope. You couldn't ask for more.
Now a cemented staple on its menu, the tuna sandwich at Pane Bianco in particular exposes what the takeaway shop does so successfully: pitch-perfect simplicity.
Briny, olive oil-packed tuna blushed with swigs of vinegar and fresh lemon, all welded loosely with the sharpness of red onion and olive — the main event would be tasty enough eaten solo by fork. But, when adorned with the added pepper of baby arugula and pressed between Chef Bianco's infamous sandwich bread (think ciabatta's leaner, softer cousin, blistered pizza perfectly in a wood-fired oven), you quickly discover a flawlessly constructed sandwich.
For those who consider themselves permanently scarred by the soggy tuna sandwiches of old, I say, the clouds part at Pane Bianco.
Sideline the outing with Bianco's notoriously addictive rice pudding, warmly vanilla-fied and crowned in raisins, making sure to add in a Mexican cola (or two) for post-bite guzzling, and the once-expected takeaway experience begins to transcend the best of the best.
Pane Bianco is located at 4404 N. Central Ave. in Midtown (light rail at Campbell station) — 602.234.2100.
[iframe_loader src="http://maps.google.com/maps?f=q&source=s_q&hl=en&geocode=&q=4404+n+central+ave&aq=&sll=33.450502,-112.074773&sspn=0.008612,0.01929&ie=UTF8&hq=&hnear=4404+N+Central+Ave,+Phoenix,+Maricopa,+Arizona+85012&ll=33.502326,-112.074237&spn=0.012525,0.018239&z=15&iwloc=A&output=embed" height="240″]
---