From the Arizona Room is a weekly column examining the historic, reuse and infill structures in Downtown Phoenix. The inspiration for this column stems from the ever-expanding resources in Burton Barr Central Library's Arizona Room (located on the second floor). For further information on this and other historic structures in the area, visit the Arizona Room during normal library hours.
10-30 N. 3rd Ave. (light rail at Central/Washington westbound or 1st Ave/Jefferson eastbound)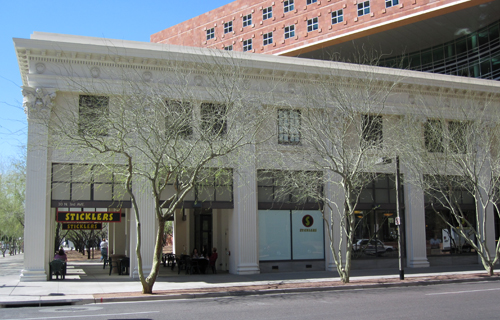 Sticklers is a popular lunchtime joint for both city and county employees, yet the building's Neo-Classical architecture, seemingly not fit for sandwiches and salads, always commands a glance. It has been on the northwest corner of 3rd Avenue and Washington Street since 1920, housing various businesses through multiple alterations.
When it was built, it was known simply as the J.M. Walker Building. Noted architect Lee Fitzhugh was called onto the project, and he created what is still today Phoenix's best Neo-Classical example. Though it stands at just two stories, original plans called for a six-story building. Despite being scaled back before construction began, original tenant J.C. Penney still occupied the space until 1926.
A fairly extensive remodel in '26 paved the way for Central Arizona Light and Power to take over the building. Following a 1950s merger, this company became Arizona Public Services Company, simply known as APS today.
Even now, the building's original charming qualities are still evident. Stately Corinthian pilasters greet the traffic of Washington Street, framed by intricate cornice brackets with carefully carved dentils — details so precise in Neo-Colonial-style buildings. The heavy eaves seem to reach out toward the street corner, as if greeting visitors.
Time and time again, the building has seen alterations to suit its tenants, but the fact remains that the J.M. Walker Building is one of the city's most beautiful commercial buildings. Next time you stop in for a bite at Sticklers, take a moment to marvel at the details. Your visit will be just another page in the history of this storied structure.
Note: The building's original address upon construction was 10 N. 3rd Ave. It has since been changed to 30 N. 3rd Ave.
[iframe_loader src="http://maps.google.com/maps?f=q&source=s_q&hl=en&geocode=&q=30+N+3rd+Ave,+Phoenix,+AZ+85003&aq=0&sll=37.0625,-95.677068&sspn=33.489543,79.013672&ie=UTF8&hq=&hnear=30+N+3rd+Ave,+Phoenix,+Maricopa,+Arizona+85003&ll=33.449025,-112.077284&spn=0.006266,0.00912&z=16&iwloc=A&output=embed" height="240″]
Source: City of Phoenix Historical/Architectural Survey of City-Owned Properties, August 1986
Is there a historic property in Downtown Phoenix you'd like to see in From the Arizona Room? Email me at si@downtownphoenixjournal.com with the address and a brief description.
---