From the Arizona Room is a weekly column examining the historic, reuse and infill structures in Downtown Phoenix. The inspiration for this column stems from the ever-expanding resources in Burton Barr Central Library's Arizona Room (located on the second floor). For further information on this and other historic structures in the area, visit the Arizona Room during normal library hours.
356 E. Alvarado Rd., East Alvarado Historic District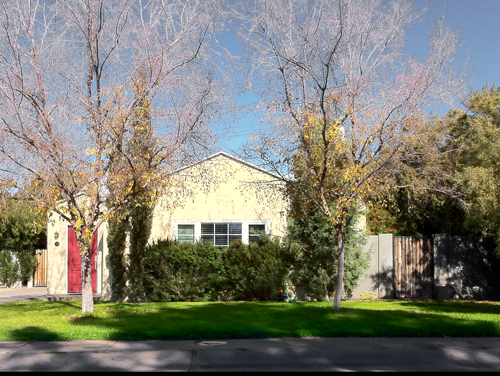 The Raymond N. Cowley House and the Roger Hofford House are lined up in a row with the Robert E. Tweedy House on Alvarado Road, but the Tweedy House preceded both of the homes built in 1941 by Paul M. Burroway.
Built two years prior in 1939 by A.D. McClain, this Monterey-style house couldn't look much more different than its two next-door neighbors. At first glance, you notice the stucco wall sheathing and the classic shutters. The beet-red door gives a cream-colored home a vibrant flash. And, interestingly, it is one of the few houses on this side of Alvarado Road partially covered by foliage.
McClain built the home using a stone foundation and a wood frame. Most of the features are classical and subtle, such as the low-pitched gabled roof. Of note is the cornice molding, which still looks impeccable today. An off-center wood-paneled entry and broad front-side window are typical traits of this style and era, but two original features have since disappeared: a canopied front porch and a carport that extended off the west side of the house.
Though one of the earliest examples of the brief boom of Alvarado, the Tweedy House sports some serious curb appeal in a neighborhood of understated class.
Sources: Willo-Alvarado Multiple Property Area Historic Resources Survey, 1989; East Alvarado City Survey.
Is there a historic property in Downtown Phoenix you'd like to see in From the Arizona Room? Email me at si@downtownphoenixjournal.com with the address and a brief description.
---