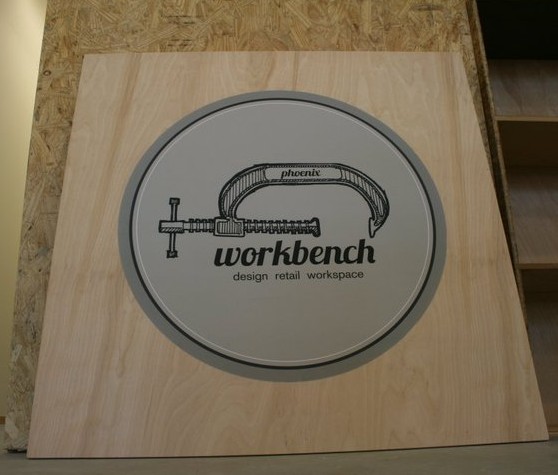 Since its recent opening, CityScape has brought many businesses to Downtown Phoenix, and about a month ago, a new independent shop found its home in the mixed-use facility.
Workbench is a store where woodworkers, architects, metalworkers, graphic designers and other local artists collaborate to produce functional art, according to CityScape.
The store sells products ranging from dining room tables and chairs, to wall art and plant arrangements, and will also custom design one-of-a-kind pieces for customers seeking specific products.
Designer and woodworker Lew Gallo, who previously co-owned Haus Modern Living, a local home furnishings and décor boutique that closed in January, is the creator of Workbench.
"He found people that had a like-minded kind of vision for design and just rounded us up; we were all equally motivated, so we just jumped in and did it," says architect and Phoenix native Christoph Kaiser.
Kaiser, who is the co-owner and co-founder of the Phoenix-based architecture firm Plus Minus Studio along with fellow Workbench contributor Hayes McNeil, said he joined the Workbench team as a way to give his products more exposure, but also because it's just a great thing to be a part of.
"We're pulling multiple people together under one roof, and it's kind of exciting to do that anyway, just as a project," he explains.
Kaiser mentions that there are few places people in the Valley can go to find handmade furniture, and many of the stores that were similar to Workbench have closed recently. But CityScape was eager to bring in more tenants, and thus made it an attractive place to open the shop.
In addition to Workbench's unique, handmade and eco-friendly products, Kaiser adds that buying from local retailers is better for the state's economy.
"These days, there's just so much mass-produced stuff," Kaiser continues. "There's something to be said about having a story behind an object and having something that has a little bit more of the human touch."
Many of these handmade products are built from reclaimed materials, which Kaiser says are easy to find in the designer community because architects, woodworkers and artists tend to have "piles of junk" in their sheds, workshops and back yards.
"If there's something out there that can be used in [some] way, then why kill another tree or have something else produced?" Kaiser asks.
Workbench Ornament Day — Thursday, December 9
To reach out to the public and introduce the designers, Workbench is hosting an Ornament Day event tonight from 6 to 9 p.m. Based on the theme of the 12 Days of Christmas, 12 different designers will each sell 12 different ornaments they've created, and customers will be able to enjoy hot chocolate and cookies while shopping.
Workbench is located at 50 W. Jefferson St. in CityScape. Hours: Tuesday to Thursday 11 a.m. to 6 p.m., Friday and Saturday 11 a.m. to 8 p.m.
---