From the Arizona Room is a weekly column examining the historic, reuse and infill structures in Downtown Phoenix. The inspiration for this column stems from the ever-expanding resources in Burton Barr Central Library's Arizona Room (located on the second floor). For further information on this and other historic structures in the area, visit the Arizona Room during normal library hours.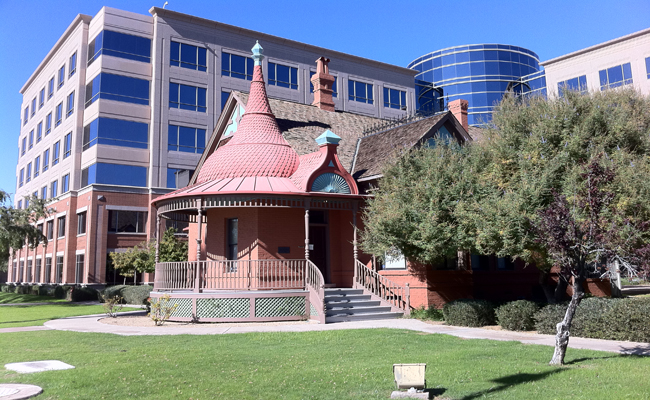 1100 W. Washington St., Government Mall Redevelopment Area

The J.M. Evans House is rarely referred to by its name; instead, the "Onion Dome" or, more formally, the Arizona State Archives and Public Records building, its current incarnation.
The home, famous for its onion bulb-like dome, stares across Washington Street to Library Park, and it is an unparalleled example of "old Phoenix" blending with modern buildings.
The unaltered Queen Anne cottage features the onion dome, of course, but also impeccable brickwork rising from its stone foundation. The wraparound porch with wood posts is common in Queen Annes from this era, as is the asphalt shingled, high-pitched gable roof. Little appears to have changed in the 117 years since the structure was built, especially considering it now serves an administrative function instead of housing.
Evans, a physician with real estate and mining interests, purchased the land in 1892 and build-out was complete in 1893. He occupied the house until 1904, and in 1908, Oscar Mahoney and family moved in.
Mahoney, a Confederate veteran, was the first superintendant of the Territorial Insane Asylum, served on city council and was the county coroner. His wife, Virginia, was one of only four women licensed to practice by the state medical examining board at the time. She died in 1925, and Mahoney vacated soon after. The building was added to the National Register of Historic Places in 1976.
Sources: Arizona State Historic Property Inventory; National Register of Historic Places.

Is there a historic property in Downtown Phoenix you'd like to see in From the Arizona Room? Email me at si@downtownphoenixjournal.com with the address and a brief description.
---