From the Arizona Room is a weekly column examining the historic, reuse and infill structures in Downtown Phoenix. The inspiration for this column stems from the ever-expanding resources in Burton Barr Central Library's Arizona Room (located on the second floor). For further information on this and other historic structures in the area, visit the Arizona Room during normal library hours.
763 E. Moreland St., Garfield Historic District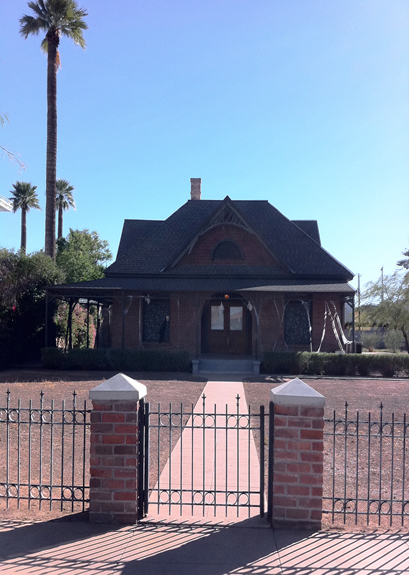 As previously noted, the L.E. Rich House is one of only two remaining pre-1900 homes in the Brill's Addition, a tract of land now part of the Garfield neighborhood. The other, slightly older home is the George Hidden House, on the northern end of the same square block.
Built in 1896 by Hidden himself, a noted carpenter, laundryman and machinist, it is the neighborhood's premier example of a middle-class Queen Anne structure (a very rare site anywhere in Arizona). Hidden combined his love for Queen Anne architecture with a more neighborhood-approved Colonial Revival style to create the Brill's Addition's most stunning home.
Though true to its historic past, the building has been altered slightly several times over the years to accommodate various business tenants. Notably, window framing and glass has been modernized, and a large rear addition was added some years after build-out. The home remains in excellent condition.
Perhaps its most unique trait, the mansard roof with gabled dormers peers up to a corbelled brick chimney. Touches like the boxed cornices, wooden shingles and the double-door entrance really make the home stand out. The wraparound veranda, complete with hand-carved wood spindles and lattice details, creates one of the more stunning front façades in all of Central Phoenix.
The home was added to the Phoenix Historic Property Register in 1994 and placed on the National Register of Historic Places in 1995.
Sources: Arizona State Historic Property Inventory; National Register of Historic Places.

Is there a historic property in Downtown Phoenix you'd like to see in From the Arizona Room? Email me at si@downtownphoenixjournal.com with the address and a brief description.
---