From the Arizona Room is a weekly column examining the historic, reuse and infill structures in Downtown Phoenix. The inspiration for this column stems from the ever-expanding resources in Burton Barr Central Library's Arizona Room (located on the second floor). For further information on this and other historic structures in the area, visit the Arizona Room during normal library hours.
724 E. Portland St., Garfield Historic District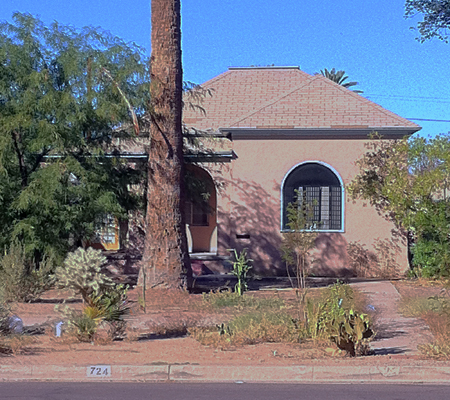 It's easy to overlook the history of East Portland Street, with development inching further east from 7th Street, encroaching the fabric of the Garfield neighborhood. Yet in direct contrast to the shiny new Portland 38 condos is the quaint Neo-Colonial Revival home built by L.E. Rich when this neighborhood was not even a neighborhood, but a swath of largely undeveloped farmland northeast of the Phoenix town site.
Rich, a Valley rancher, started constructing the home around 1898, and moved in soon after. Brick with a stone foundation, the stucco wall sheathing meshes nicely with many homes on Portland and surrounding streets in North Garfield. The truncated hip roof, fixed up with new asphalt tiles, features a boxed cornice hanging above a modest entry porch. Though the home retains many of its original qualities from the 19th century, a rear addition and various window treatments were later added.
Significant as it is that a home of this age is still standing in Phoenix, it is of special interest to Garfield area history — it is now only one of two remaining pre-1900 homes in the Brill's Addition, a patch of land from modern day 7th to 12th streets and McDowell Road to Roosevelt Street. The southern chunk of this land now encompasses North Garfield.
Originally surveyed and recorded in 1887, the Brill's Addition was a 15-block annex on the northeastern edge of town. Frederick Brill, a Wickenburg miner and rancher, moved to Phoenix in 1885, building his home smack dab in the middle of the modern 7th Street and McDowell intersection.
After residences sprouted up in the early 1890s, Brill resurveyed and platted the land to include Brill Street, then a path that led to his home, today a neighborhood street that heads east from 7th Street to Good Samaritan Medical Center and beyond.
Sources: Arizona State Historic Property Inventory; National Register of Historic Places.

Is there a historic property in Downtown Phoenix you'd like to see in From the Arizona Room? Email me at si@downtownphoenixjournal.com with the address and a brief description.
---