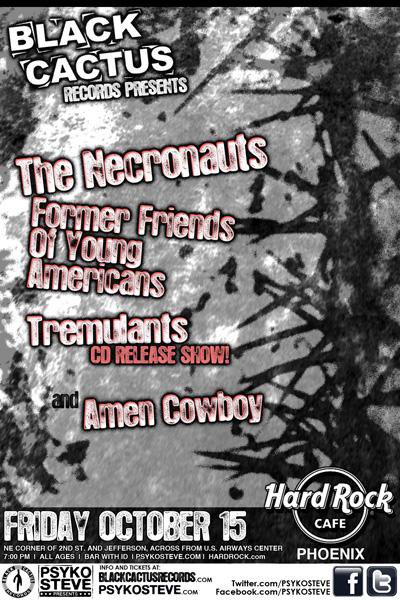 Four great local bands, one CD release show, one night only. Psyko Steve is bringing it all to you at the Hard Rock Café tonight, October 15.
The Tremulants, The Necronauts, Former Friends of Young Americans and Amen Cowboy are playing the Black Cactus Records Showcase and celebrating The Tremulants' album release.
The Tremulants are a five-piece indie-electronic band from Tempe that throws in a gnarly curve ball when you hear the violin playing.
The Necronauts are a three-piece punk funk band. If you're a fan of Fat Wreck Chords bands and Dead Milkmen, then they are your flavor.
Former Friends of Young Americans is a four-piece down-tempo indie band. Their sound has a sort of mellow Local Natives sound.
Amen Cowboy is originally from Detroit, but has found its way down to Phoenix with three less members than when it began. Clinton Switzer is the songwriter, guitarist and vocalist for Amen Cowboy. Name sound familiar? It's because he's made a little name for himself Downtown. He's played many First Fridays (especially in front of his home at Holgas) and Civic Space Park. If you're ever around Holgas and hear music, it's most likely coming from Switzer's loft.
All four bands play four very different genres of music, so if you're a little bit of rock n' roll or a little bit of country, Hard Rock is where it's at. The show is all ages and costs $10 at the door. Doors at 7 p.m.
---