From the Arizona Room is a weekly column examining the historic, reuse and infill structures in Downtown Phoenix. The inspiration for this column stems from the ever-expanding resources in Burton Barr Central Library's Arizona Room (located on the second floor). For further information on this and other historic structures in the area, visit the Arizona Room during normal library hours.
323 E. Willetta St., East Evergreen Historic District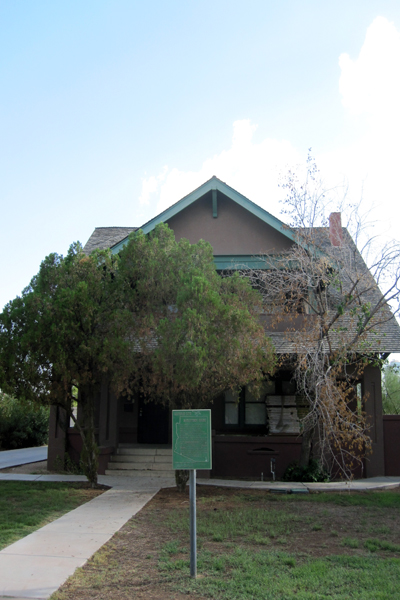 The unassuming East Evergreen Historic District is just steps from a busy 7th Street and McDowell Road intersection, but select small lots along Willetta Street have been well preserved from a time when this neighborhood was the boonies. One of those lots is home to the James H. McClintock House.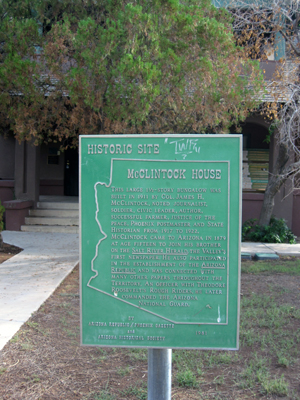 Built in 1911, the one-and-a-half-story home was drawn up by McClintock, a prominent Arizonan in the early stages of the 20th century. What didn't McClintock do? He co-founded The Arizona Republican (now known as The Arizona Republic) and was the editor of the Phoenix Gazette, a member of Teddy Roosevelt's Rough Riders, a successful farmer, justice of the peace and the Phoenix postmaster. As if that weren't enough, he even wrote two books on Arizona history.
The home is in fair condition today — characteristic of the neighborhood — its cross-gabled dormer protects a roomy sleeping porch, much larger than most in the area. The booming roof line makes it the most notable home on the street despite the sign in the front yard proclaiming the home's historic status. Still, it is one of the foremost examples of a large turn-of-the-century Southwestern bungalow in Phoenix. It was added to the National Register of Historic Places in 1990.
Sources: Phoenix Historic Building Survey, Charles Hall Page & Associates, Inc., September 1979; National Register of Historic Places.

Is there a historic property in Downtown Phoenix you'd like to see in From the Arizona Room? Email me at si@downtownphoenixjournal.com with the address and a brief description.
---