The corner of Garfield and 4th streets didn't stay empty long, and I couldn't be more excited about it. Bliss and reBar are the new kids on the block. Offering an eclectic menu of comfort foods at Bliss and an extensive list of spirits at reBar, this is definitely a must-frequent destination.
With all of that in mind, I set out this week to be comforted by some new cuisine. As I strolled up Garfield Street, I heard the familiar sound of pulsating bass beats rifling through the night air — a sign of life on a corner that had been depressingly dark for a while. Gladly, I walked up to the still familiar settings and proceeded to take it all in. I love when new restaurants come down here. It's good for soul.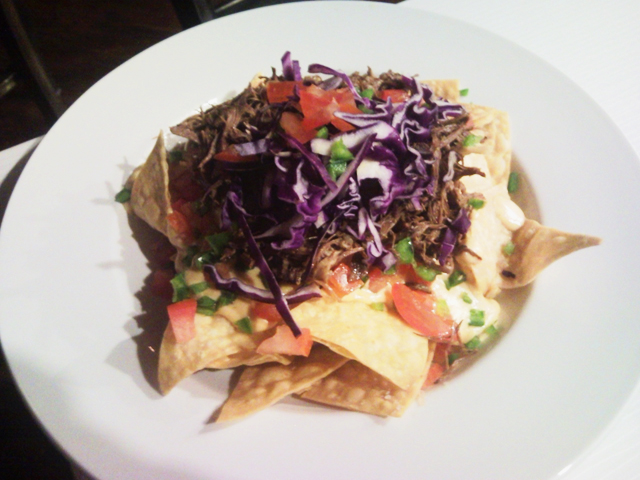 The menu lists some delicious-sounding items. With everything from tacos to pot roast, the selection seemingly covered the gamut of culinary consolation. If I was ever needing to indulge on some ravioli to ease my sorrows, it's good to know they are able to offer it up.
I settled on the braised beef nachos and reveled in the glow of my forthcoming gluttony. The food arrived quickly and somewhat interrupted my daydream about what menu item I would like to cheer me up next time. The pile of nachos looked glorious indeed. Layers of tender braised beef, red cabbage, green peppers, nacho cheese and golden tortilla chips made this a lovely sight. I might have teared up a little bit.
Diving in, I was immediately surprised by the shredded beef. Nachos are already one of my I'm-down-in-the-dumps-this-will-make-me-feel-better foods, but these were set apart by the beefiness. The literal size the plate, coupled with the bevy of flavors rolling around in my palate, made for an excellent, well, blissful dish.
Join me in welcoming the latest sensation to Downtown. Now that Bliss is here, I feel better already.
Bliss and reBar are located at 901 N. 4th St. in Evans Churchill (light rail at Central Station) — 602.795.1792
---