At 10 p.m. in the middle of a Tempe neighborhood, most people are going to bed — kids dreading the first days of school, parents watching David Letterman — but behind one door, there's a family reunion going on. A Dry River Yacht Club reunion to be exact.
For the first time in a while, all eight members are together again and yes, it feels so good.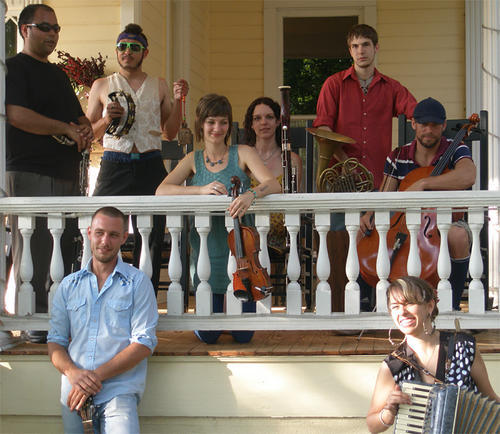 The night before they're off to record at Chalice Recording Studios in Los Angeles, they get together to practice, have a few beers and catch up. DPJ was lucky enough to be part of the late night festivities.
In the kitchen, we talked about their history together, stories from tour days and how the new record is going to be beyond amazing.
The Dry River family consists of Freddy Reyes (sax, bass clarinet), Steve Bohn (cello), Henri Benaro (percussion), Kristilyn Woods (bassoon), Megyn Neff (violin), Ryan Probst (guitar), Jordan Robert (French horn) and Garnet (vocals, accordion).
This isn't your usual guitar-bass-drums band, but when all these instruments come together, it's like you've found that missing puzzle piece to your music collection. A well-oiled machine, at one time or another the band either played together or worked together and decided to become one band. Dry River started playing open mic nights at Yucca Tap Room in Tempe with a set list of three songs.
"We put together an EP, made shirts that we bought at the thrift store and our friend Nate silk-screened them. That's how we funded our tour," Woods recalls.
You can only imagine the amount of stories that will come out of 10 days in a seven-passenger minivan full of gear on tour together for the first time.
"We went out with 100 discs on that tour and sold them all," Benaro says. "Then we were like, 'Let's start playing with this band.'"
The band came back to town to play its EP release show with no EPs, but no matter. They soon introduced two new bandmates, Neff and Robert. You would think with so many members that they wouldn't be able to fit on stage, but they surprisingly do… most of the time.
"We broke a stage in Austin one time," Reyes reveals. "Jordan and I were scared and we got back on the floor."
Three members of the band don't live in town anymore, yet the band still plays on. They recruit friends to come in and play shows or fill in the bandmates' absence with a heavier influence of the available instruments. As they say, the show must go on.
Dry River has played so many places in Arizona that it took five people to remember all of them, from ASU to the Botanical Gardens, and MADCAP Theater to even the light rail. The list goes on and on.
"That felt like we were illegal bandits, man. It was cool," Benaro said of playing the light rail music competition, Train Tracks.
As much as their local fan base loves them, they love the local music scene right back.
"There's a very diverse palette," Bohn says of Phoenix. Dry River has played with bands that aren't even in their genre, and they feel like in other cities there isn't much of that going on.
"In other cities that I've lived in, bands that are in the same genre are always sort of tearing each other down," Woods says. "It's very cliquey. Here it's not like that at all. You're excited when your friend's band has a good show or wins a competition or gets to play a big festival."
Speaking of big festivals, Dry River will be playing a festival coming in Page next month, Powellapalooza. Yes, Arizona's very own Coachella!
And, definitely keep an eye out early next year for a CD release party.
"We've been giving out free champagne in the past," Reyes says of CD release shows. "We just get as many people there as possible. You get a free disc when you get in… who knows about the free booze, but we're gonna have a lot of fun."
If you want to hear Dry River sooner, they are playing Monday, August 16 at 7:30 p.m. at The Rhythm Room (1019 E. Indian School Rd.) with These United States and Or the Whale. Tickets are $10.

---